Nikolas Nikas: The frightening future of cloning and embryonic stem cell research

Rachel Alexander
- Did you know that cloning can take place with just women - men are not needed? Did you realize that the "bans" on cloning you read about in the media are only referring to bans on federal funding for cloning research? Were you aware that the UK approves of creating human-animal hybrids?
Experimentation with cloning is already happening legally at places like Harvard University, but since it's so expensive to fund because of the lack of success, biotech companies want the government to pay for their research. I recently attended an excellent lecture on the future of cloning given by Nikolas T. Nikas, the President and General Counsel of Bioethics Defense Fund, and was disturbed to hear where cloning and its loathsome bedfellow, embryonic stem cell research, are going. Following are some of the most interesting excerpts from Nikas's presentation.
Although embryonic stem cell research is frequently touted in the media and by Hollywood stars as the magical solution to all that ails us, genetic engineering research has had little success so far with embryonic stem cells because the transplanted cells create tumors. The embryonic cells that are duplicated and transplanted in mice develop tumors, probably because they keep trying to grow and split into new cells as a typical embryo cell would do if it was growing into a full-grown organism. Tumors are nothing more than new growths.
Adult stem cells that are transplanted don't have this problem since they aren't trying to expand into new cells. Transplanting adult stem cells has been very successful. 72 diseases have been cured, treated or helped, including leukemia and lymphoma cancers, multiple sclerosis, sickle cell anemia, heart disease, diabetes, and Parkinson's disease. One young boy, Keone Penn, was completely cured of stem cell anemia using stem cells from an umbilical cord, but no one has ever heard of him because it was adult stem cells, not embryonic stem cells.
Nikas noted that the media purposely confuses the difference between embryonic stem cells and adult stem cells, hoping to create the false impression that embryonic stem cell research has already reaped successful results. There are frequent headlines declaring "Stem Cell Breakthrough," and only buried at the bottom of the article is it revealed that the breakthrough involved adult stem cells, not embryonic stem cells.
The eventual goal of cloning isn't just to cure existing ailments by transplanting cells, but to produce replicas of humans that can be used for full body parts (the science fiction movie "The Island" is intended to become reality some day). One obvious problem with this plan is that there aren't enough women of fertile age to provide eggs and give birth to enough replicas for everyone on earth; it would turn women into egg farms. Of course, men will no longer be necessary for reproduction with cloning, since stem cells (already containing the full 46 chromosomes from both the original male and female) could be taken from a woman's body, put into the shell of an egg from a woman, then grown until birth inside the womb of a woman.
Other difficult and eerie issues will arise in the future if human cloning succeeds and is permitted to take place. What if someone takes a stem cell from you - just a flake of skin that floats off you is enough - and uses it to clone you without your permission? Will you have a right not to be cloned? Or what if a great person such as Michael Jordan is cloned, but the clone grows up and decides he doesn't want to become a pro basketball player? Cloning turns human life into a commodity; we learned from the Civil War what happens when you treat human life as a commodity. As we keep learning more and more about manipulating our genetic code, what about when we reach the level where we're able to screen out certain genetic deficiencies, and spot them before a fetus is fully developed in the womb; will it be considered child abuse one day to insist on bringing a child into the world with defects?
Because of the lack of success with embryonic stem cells, most biotech companies are not willing to risk the money in what has proven to be an unsuccessful venture so far. So although states like Arizona haven't banned cloning, it is not yet an issue in some states because the companies aren't willing to risk the investment. There is currently no federal ban on cloning, only on the federal funding of cloning.
It is just a matter of time before some scientist in the world clones the first human being. So far they haven't been able to successfully clone a viable animal; Dolly the sheep, the world's first cloned animal, died prematurely of unusual health problems. Harvard University has been given a grant to produce the first cloned human embryo. How far the embryo is allowed to develop is not settled; some states have laws prohibiting cloned embryos from being carried to term. But eventually some mad scientist will figure it out, and we'll be entering Aldous Huxley's Brave New World.
For more information, Nikas recommends checking out bioethics.gov and reading "The Wisdom of Repugnance: Why We Should Ban the Cloning of Human Beings," in The New Republic, June 2, 1997, pp. 17-26.

This artcle was first published @ IntellectualConservative.com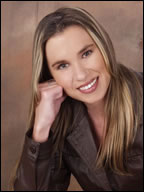 Rachel Alexander
ist praktizierende Anwältin für die Regierung in Phönix im U.S. Staat Arizona. Als ehemaliges Redaktionsmitglied und Kolumnistin des Arizona Daily Wildcat, gewann sie für ihre journalistischen Arbeiten drei Auszeichnungen und schreibt Kolumnen für

IntellectualConservative.com
sfux - 20. Okt, 23:19 Article 5642x read