Part one of a Raw Story Investigates series on the architects and the execution of backroom Republican politics

Larisa Alexandrovna & Muriel Kane
- For most Americans, the very concept of political prisoners is something remote and exotic, familiar in the context of third-world dictatorships but alien to the American tradition. They might acknowledge that a few radical trouble-makers and foreign terrorists have been imprisoned by the United States for crimes against the system. But the idea that a prominent politician -- a former state governor -- could be tried on charges that many observers consider to be trumped-up, convicted in a trial that included undeniable procedural irregularities and hauled off in shackles immediately upon sentencing would be almost unbelievable.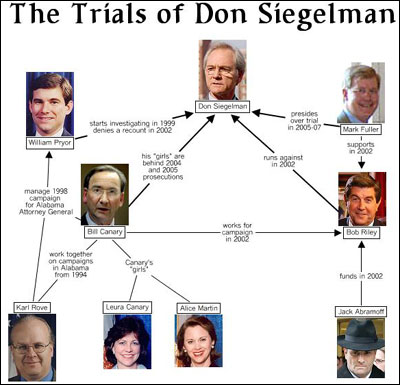 But there is such a politician: Don Siegelman, Democratic governor of Alabama from 1999 to 2003. As the result of an investigation launched by his political opponents just a few weeks after he took office, and escalated from the state to the federal level by Bush Administration appointees in 2001, Siegelman was charged with 32 counts of bribery, conspiracy and other crimes just as he began to attempt a political comeback in 2005. He was convicted the following year on seven of those charges.
Part one: Don Siegelman, political prisoner
Governor Don Siegelman was a popular Democratic politician in a largely Republican state and was the only person in Alabama history to hold all of the state's highest posts. He served as Attorney General, Secretary of State, Lieutenant Governor and finally as Governor from 1999 to 2003.
On Election Day in November 2002, when the polls had closed and the votes were being counted, it seemed increasingly apparent that Governor Siegelman had been victorious in his re-election bid against Republican challenger Bob Riley. But then -- just as in the infamous Florida election of 2000 -- something strange happened in the tallying of the votes.
As CNN reported at the time, there appeared to be two different sets of numbers coming through for one particular Alabama county:
"The confusion stems from two sets of numbers reported by one heavily Republican district," the network stated.
"Figures originally reported by Baldwin County showed Siegelman got about 19,000 votes there, making him the state's winner by about two-tenths of 1 percent," its reporter added. "But hours after polls closed, Baldwin County officials said the first number was wrong, and Siegelman had received just less than 13,000. Those figures would make Riley the statewide winner by about 3,000 votes."
"Sometime after midnight, after the poll watchers were sent home, a small group there decided to recount the votes a third time," Siegelman told a news conference at the time. "No watchers legally entitled to be present were notified -- and then a different total was established."
The following morning, Alabama saw a new governor declaring victory in the election. But the story didn't end there. It was only the beginning of a case that would turn the politics of dirty tricks into something far more sinister.

Riley's electoral victory rested on a razor-thin margin of 3,120 votes. According to official reports, Baldwin County conducted a recount sometime in the middle of the night on Nov. 6, when the only county officers and election supervisors present were Republicans. It was during this second recount that the shift in votes from Siegelman to Riley appeared. Although various computer "glitches" and technical anomalies occurred across the state, it is widely acknowledged that the Baldwin County recount is what decisively delivered needed votes to the Riley camp.
State and county Democrats quickly requested another Baldwin County recount with Democratic observers present, as well as a state-wide recount. But before the Baldwin County Democratic Party canvassing board could act, Alabama's Republican Attorney General William Pryor had the ballots sealed.
Unless Siegelman filed an election contest in the courts, Pryor said, county canvassing boards throughout the state did not have the authority "to break the seals on ballots and machines under section 17-9-31" of the constitution.
But at the same time, other, more embarrassing questions involving the Riley camp and Alabama Republican officials appeared to have fallen off the radar.

Read the whole thing at The Raw Story

Timeline: The prosecution of Don Siegelman
sfux - 27. Nov, 08:00 Article 2868x read