Killing the Journalist or: Sreten Jocic alias Joca Amsterdam – The bloody journey of a Mafia boss across Europe
Dr. Alexander von Paleske
-- 3-Nov- 2010 ---
On 23rd October 2008 a bomb exploded in the Stara Vlaska Street of Zagreb, capital city of Croatia, killing the top journalist and editor of the weekly
Nacional
, Ivo
Pukanic,
and his marketing director Niko Franjic, wounding several others.
Pukanic was famous for his investigative reports. Top on his list: the Croatian and Serbian Mafia.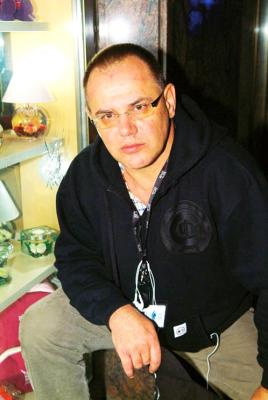 Murdered: Investigative Journalist Ivo Pukanic
Seven of the eight suspects in the murder case were arrested . Mastermind of the conspiracy was allegedly a Serbian mafia boss by the name of Sreten Jocic. He allegedly was given 1,6 million Euro to do the "job".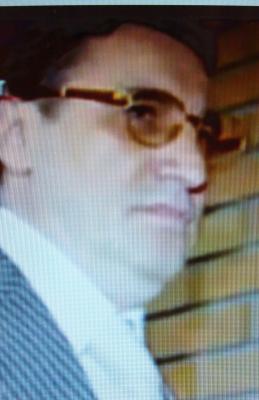 Murder for hire: Sreten Jocic alias Joca Amsterdam
After a trial, that lasted 9 months, 6 of the 8 accused murderers, however not Sreten Jocic so far - he is being tried separately - were convicted today (3rd November 2010),
and sentenced to between 15 and 40 years imprisonment.
During his trial, Jocic claimed, that a connection exists between the murder of Pukanic and the scandal riddled Austrian bank Hypo-Alpe-Adria.
Who is Sreten Jocic alias Joca Amsterdam?
Sreten Jocic was born on 24th October 1962 in what was then Jugoslavia , now Serbia.
After finishing school, he did his compulsory military service and declared himself an "anticommunist", something not very popular with the authorities at that time.
He deserted from the army and left for Austria, found relatively soon a new home amongst the Jugo-gangsters in Austria
, who often posed as political refugees.
Jocic allegedly got busy stealing and robbing. Eventually the Austrian police was after him, accusing him of being involved in the murder of three policemen.
Time to leave and settle in Germany
Frankfurt(M) / Germany has been all along a favorite destination for Jugo-Gangsters, that's where Jocic went, and got soon in contact with two resident top Jugo-Gangsters by the name of
Ljubomior Magas
alias Ljubomir Zemiunac and
Zeljko Raznatovic Arkan.
These gangsters in turn introduced Sreten Jocic to a Jugo Mafiosi by the name of
Duje Becirovic
.
A Jugo-Gangster named Becirovic
Becirovic was wanted by the German Police for numerous crimes, however he managed to escape to the Netherlands not for starting an honest life, but to become the boss of the Jugo-Gangsters there.
Becirovic positioned himself on the drug market in Amsterdam, Jocic became his bodyguard, then his confidante, finally his deputy in the Jugo-Gangster syndicate.
Becirovic became known for killing those, who stood in his way on the drug market and, as an additional "service": murder for hire.
And for the first time, certainly not for the last, Sreten Jocic appeared in press reports after he killed a "colleague" in an Amsterdam sex-club.
However, not unusually in the criminal underworld, Becirovic had a major financial dispute, this time with a prominent Dutch gangster boss by the name of
Klaas Bruinsma
. Major conflicts are settled in the underworld normally not with the help of the police or the courts, but with guns instead.
Bruinsma gave the order to execute Becirovic.
The Deputy becomes the Chef
After Becirovic's death, Sreten Jocic became his successor and earned himself the nickname Joca Amsterdam.
Jocic, now in charge of the Jugo-gang, decided that the time for Bruinsma had come to say goodbye to the world. He allegedly ordered the execution of Bruinsma as a revenge for the murder of his former boss and godfather Becirovic.
Klaas Bruinsma was killed in June 1991.
A Prince of Holland and the Mabelgate
Let's dwell for a moment on Klaas Bruinsma, who was not only the top Dutch gangster at that time, but also the lover of a woman by the name of Mabel Wisse Smit, who, after his death fell in love with another criminal by the name Muhamed Sacirbey. Eventually she fell in love with and then married Prince Johan Friso, son of Queen Beatrix of the Netherlands.
In cohort with her prospective husband, she tried to hide her illustrious past, thereby causing a big scandal named the
Mabelgate.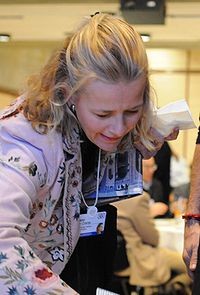 "Mrs. Mabelgate" Princess Mabel of Orange Nassau
It was not the first scandal, though, in the royal household.
Already the father of Queen Beatrix,
Prince Bernhard
, once member of Nazi Germany's SS, became embroiled in the Lockheed bribing scandal in the 70s, by accepting large amounts of money in return for supporting the acquisition of the Lockheed Starfighter F 104 by the Dutch army, a plane, that made headlines for not infrequently falling from the skies.

Back to Jocic
Jocic, after killing a Dutch national, appeared now clearly on the radar screens of the Dutch police, who, apparently up to then had turned a rather blind eye to all the criminal activities of the Jugo-Gangsters, including their killings.
They got an arrest warrant, and finally arrested Jocic, not before he tried to resist the arrest by shooting at the police and wounding one of their officers.
Next Stop: Romania
Sreten Jocic, now better known as Joca Amsterdam, did not stay very long in a Dutch prison. He escaped to Romania together with a Romanian criminal by the name of Ile Priescu.
Not long after his arrival, not only in the country but also in Romania's drug dealing underworld, he got an invitation from the former Serbian leader and war criminal Slobodan Milosevic.
A former member of the Jugo-Criminal-Gang in Frankfurt (M)/Germany by the name of
Zeljko Arkan
, whom we mentioned already, had recommended him strongly and Joca turned out not to be a disappointment, at least for that, what Milosevic had in mind.
Milosevic tasked Jocic to bring goods into Serbia, goods, that had been put on an embargo list by the UN. This was supposed to be facilitated by importing them officially into Romania or Bulgaria, and from there ship them to Serbia.
At the same time Milosevic gave him a free hand to continue with whatever criminal activities Joca Amsterdam had in mind, and a lot he had.
Jocic also was equipped with a membership card of the Serbian secret service.
He delivered to Milosevic and at the same time continued to smuggle drugs from Asia into Europe, especially into the Netherlands.
Willem Holleeder comes on stage
However another criminal, who took over the vacant position of Netherland's top gangster after Bruinsma died, was determined to chop of the head of Bruinsma's killer.
His name:
Willem Holleeder
.
He had been in prison for some time for the kidnapping of beer brewer Alfred Heineken (Heineken beer). After his release he not only became the top gangster, but also fostered friendship with the Dutch high society. His big friend in those circles was the filthy rich
Jan-Dirk Paarlberg
, who allegedly laundered money for Holleeder.
Paarlberg's very, very close female friend until 2006 was the Dutch politician and EU-Commissioner
Neelie Kroes
, who had the wonderful privilege to discharge her stressful duties from one of Paarlberg's presentable palaces, free of charge - of course.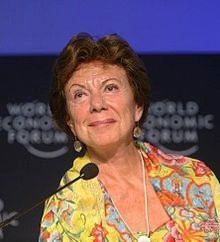 Dangerous Liason: EU Commissioner Neelie Kroes
Willem Holleeder hired a Serbian hitman by the name of Goran Marjanovic to kill Jocic.
However, Jocic got wind of that plot and hired two Serbian policeman to kill Marjanovic instead, which they did on 18.5. 1995. The policemen got arrested after a second crime with the same weapons and spilled the beans.
Time for Jocic to hurriedly leave Serbia for Columbia. There he established new drug- business contacts and new transport routes.
Jocic back in Europe
He returned back to Europe in 1999, this time with a new identity and his family.
He quickly established himself in the Bulgarian underworld, but did not forget some of his old enemies in the Netherlands. October 2000 was the final month for Dutch criminal
Sam Klepper.
Another criminal from the Bruinsma-time and gang,
John Mieremet
, now feared for his life and offered Jocic 10 million Deutsche Mark (5 Million Euro) in return for being "pardoned".
Jocic agreed. The transfer of the money was supposed to go through Holleeder, however Holleeder, in violation of the "contract", took much more commission than agreed upon, thus "defrauding" Jocic and Mieremet.
After getting too many complaints, Holleeder apparently gave the order to execute Mieremet in Thailand.
Holleeder, still baying for revenge of Bruinsma's murder, gave a tip off to the Dutch police telling them the whereabouts of Jocic.
On request of the Dutch police, Jocic got arrested, pending extradition to the Netherlands.
He unsuccessfully offered to pay off all Bulgarian foreign debt in return for his release. Jocic was eventually extradited to the Netherlands. There he served his prison sentence in a maximum security prison for the attempted murder of a policeman.
From inside the prison, Jocic allegedly ordered the murder of some Bulgarian Mafiosi, including gangsterboss
Milcho Bonev
and his five bodyguards.
In 2006 he was finally extradited to Serbia, where he was wanted for the murder of Holleeder's hitman.
Jocic, however, was quickly set free on bail and decided, to become a more respectable citizen, investing in former state owned companies and residing in a presentable villa, once belonging to Slobodan Milosevic, who died in 2006 before his war crime trial was concluded. Still, however, being a bit busy in the underworld and allegedly accepting "murder for hire" jobs in Europe.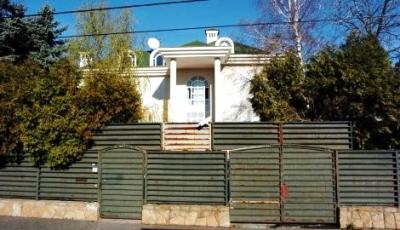 Milosevic-Villa in Belgrade
Today, after a trial that lasted nine months, six of Jocic's co-accused were convicted for the murder of investigative journalist Ivo Pukanic, former editor of the Croatian weekly
Nacional
.
However, the real background of the Pukanic murder case - who in the end paid Sreten Jocic, whether or not the Austrian Scandal Bank Hypo-Alpe-Adria was involved - is still waiting to be uncovered.

Hypo-Alpe-Adria-Bank (Scandalpe): Update of the Scandal

Hypo-Alpe-Adria – A Bank-Scandal in Austria

Joca Amsterdam (Sreten Jocic) oder: die Blutspur eines Mafiosi durch Europa

BayernLB Ex-Tochter Hypo Alpe Adria Bank in Journalistenmord verwickelt?

Wie ein Söldner resozialisiert und Hollands Oberschicht kriminalisert wurde
onlinedienst - 3. Nov, 12:12 Article 11848x read