No "buy recommendation" for a book about a former mercenary
Dr. Alexander von Paleske
--- 02nd August 2010 --- A book about a former notorious mercenary, and former member of Apartheid South Africa's murder and destruction gangs called Recce (Reconnaissance Commando), has hit the book market: James Brabazon "
My friend, the mercenary"
Brabazon describes in his book
the "adventures" of Nick du Toit, a soldier turned mercenary, who, in 2004, together with mercenary and Ex-SAS soldier Simon Mann, tried to topple the ruler of the tiny, but oil rich West African Country Equatorial Guinea, Obiang Mbasogo Nguema
(Wonga Coup
).
Originally Brabazon, a British film maker, was invited to accompany the mercenaries and film the coup. Brabazon can praise himself to be lucky, that he had to attend the funeral of his grandfather, otherwise he would have been arrested in March 2004, together with some 60 other mercenaries, including du Toit in Equatorial Guinea, the rest on a stopover in Harare/Zimbabwe, whilst Sir Mark Thatcher was arrested in Cape Town and later released after his mother paid a fine of 35.000 British Pounds.
Du Toit and Simon Mann were both sentenced to 34 years in prison and pardoned in November last year.
Brabazon met du Toit when he was filming the Liberian Civil war in 2002, and hired him as his bodyguard.
In his book Brabazon tries to create some sort of sympathy for this rotten character, who can look back to a murderous career in Apartheid South Africa's Special Forces.
He was in 1985 commander of Recce 5.
On 14th of June 1985
this gang came to Gaborone
, capital city of neighboring Botswana, for a killing spree.
Nick du Toit and his "comrades" killed 14 people, amongst them a pregnant mother and a six year old child. Afterwards they blew up a number of houses.
For this crime against humanity, Nick du Toit was never charged. Neither is this murderous episode mentioned in Brabazon's book.
I do believe, that there is no good reason at all, to feel any sympathy for this mercenary, who never appeared before the South African Truth and Reconciliation Commission, headed by Archbishop Desmond Tutu, to confess and ask for forgiveness, unlike many others, including those, who ordered the raid on Gaborone.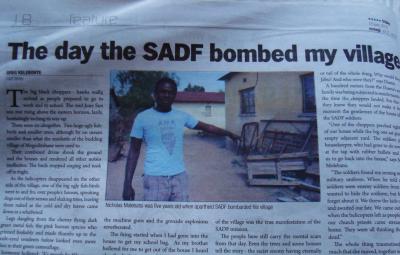 Not forgotten: Daily Botswana newspaper MMEGI 18th June 2010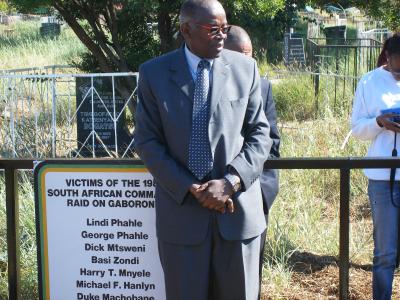 Mourning the victims of the raid, Michael Dingake, Ex Robben- Island prisoner
Photo: Dr. v. Paleske

A Coup for a Mountain of Wonga

When the Regular Army goes, the Mercenaries come

British Mercenary Simon Mann's last journey?
More
Politicians, Diplomats, Crooks and Mines
Adnan Khashoggi, Rakesh Saxena and the Spiderweb

Hypo-Alpe-Adria – A Bank-Scandal in Austria?

US aganist Iran (Gerhard Merz)

Conflicts in Africa - Millions suffered, a few became millionaires, one of them: Viktor Bout (Butt)

Bulelani Ngcuka and his Apartheid Soldiers
onlinedienst - 2. Aug, 07:07 Article 4744x read