Tony Blair: I don't believe in 'clash of civilizations'
Exclusive Interview With Tony Blair
Aired by Geo TV, Pakistan on Monday, November 20, 2006

By Hamid Mir
Hamid Mir: What is your basic objective of visit to Pakistan?
Tony Blair: I am here to try cementing the relationship between Britain and Pakistan to support Pakistan in health, education and development to build cooperation and for the growth of Pakistan economy. I am here to symbolize the change in the relationship. A few years back I couldn't think of coming here and found Pakistan in such a good position.
Prime Minister Tony Blair with Hamid Mir, Photo © : GEO TV, Islamabad, Pakistan (November 19,2006)
Q: President Musharaf pardoned the death sentence of a British citizen Mirza Tahir. Are you against the death penalty as a principle?

A: We are against the death penalty and that's the position of European Union and Britain as far we have abolished it in the UK but this is a different issue and we were pleased that intervention and that persistence was the matter of Pakistan and not for us.
Q: What do you think about the death penalty of Saddam Hussein? Do you think his hanging will help to stabilize the situation in Iraq?
A: It's the decision that Iraqi authorities will take but as I said earlier we are against the death penalty in whatever context.
Q: You have many important insterests in Afghanistan. Why do you think the situation in Afghanistan is not stabilizing?
A: There are many parts of Afghanistan which are stabilizing but there are many changes in the country in terms of economy and in terms of democracy, there are presidential elections and the girls are allowed to go to schools and many of the schools start to rebuild and there are new health centers and so on. So there is a lot of change but of course there are Taliban's and the extremist groups that will fight hard because they used to have the power which they don't have now. We should stay to help Afghans and they should have their own security in place, so that they can work out their own future so that they can elect their president.

Q: How long are UK forces going to stay in Afghanistan? According to some reports they are going to stay for 10 years. Is this correct?
A: None of these reports are correct, in the end we stay as long as the government wants us to stay, of course we have United Nations resolution which backs our presence there. The purpose is not to stay there forever. There is no time limit, an arbitrary time limit from the perspective of Afghans, which want us to stay there to back their government in taking control of the country so that people can enjoy proper human rights and democracy.
Q: Five years after 9/11, Osama Bin Laden and Mullah Omar are still at large? What do you think this is so?
A: I know there are many attempts to seek them out but I think what is more important that we stay with people in Afghanistan and help them what they want, that is what they voted for it, in the end this is not an imposition. United Nations has supervised the democratic process and the reason why British forces and the forces of 25 -30 countries are in southern part of Afghanistan is to help the government.
Of course we continue to seek out Osama Bin Laden and Mullah Omar but the important thing is to support the reconstruction, political development and economy and particularly this situation in southern part where the Talibans are fighting back.
Q: A top UK General said that this is the time to pull out from Iraq. Do you have any exit strategy to pull out from Iraq?
A: The strategy we have is what the general said. It's different from Afghanistan. The Iraqi government wanted us there but the Iraqi capabilities are growing the whole time. British forces looked after four provinces in Iraq, two of them are already handed back to Iraqis, and we are conducting operation in Basra at the moment which is to give the control to the Iraqi authorities later. Again it is diminishing our need to be there but the purpose both in Afghanistan and Iraq to stay there with the support of their governments and the United Nations as long as it is necessary, not more than when not necessary.
Q: There is no independent judiciary and free press both in Afghanistan and Iraq. So how can you stabilize democracy in both these two countries without independent judiciary and press?
A: The press is free in Afghanistan and Iraq both. In respect to judiciary that's the part of capacity we have to build in these countries, but let's be clear when Taliban were in charge of Afghanistan and Saddam Hussein was in charge of Iraq, you did not have any free press and nor had democratic rights.
Q: You have met many Pakistani scholars today; you must have exchanged your views with them. Most of them think that this war against terror is a war against Islam and we are heading towards a clash of civilizations .What are your impressions?
A: We are not heading towards clash of civilizations. Majority of Muslims believe in democracy, tolerance, people of different faiths living together. One of the things we are exploring with these people at mosques is how we get a better atmosphere on faiths between both sides and how to remove some misconceptions regarding the war against terror. We are in alliance of civilization against people of extremism that uses terrorism to get their way.
Q: What is your position on the veil controversy in UK these days?
A: I have talked about it before, because in the end people go for their personal choices that whether they wear veils it's immensely a difficult subject. I think in broad terms when we see integration of faiths I also see integration of societies so that people see they are coming together. The veil controversy started when people felt that there was separateness. There are differences on it within the Muslim communities, as well as outside the Muslim community.

Q: The Dutch government has decided to put a ban on veil and hijab. Would you like to comment on that?
A: No, I don't think so that's the matter to fall in but I think there are different positions taken on this by the Muslim countries, but these are very sensitive cultural issues. Sometimes they have to be raised in order to explore problems that they have given rise to.
Q: Yesterday, General John Abizaid said that the Islamic militancy could yield World War III. Do you agree with that?
A: I think the extremism that linked to Islam is giving its wrong view because it's a peaceful religion. But this extremism is in around many countries, it's in Britain, Pakistan and in many European countries. I think we all, people who believe in moderation and tolerance, need to come together and beat it. The trouble with the world of globalization in terms of economy, mass communication and technology it's with everything. The cliché about us being the global world is becoming true but terrorism can be a very dangerous thing; it sets people apart and pulls people of different faiths against each other. It casts the shadow on the abilities of the people to work together and I think the general is right.
Today Britain and Pakistan both are doing work together to beat it, which was unimaginable, and the work Pakistan has done in all these years is very important.
Q: Can we combat the Islamic militancy without resolving the problem in the Middle East? Do you have any solution in your mind regarding the resolution of the Middle East problem?
A: I certainly have the resolution that we should have two-state resolution. The Palestinian people should have their own stable state. The advantage is that we know what we want to achieve but the problem is how to get it. The important thing is to patiently revitalize this peace process which is very important and keep it going. Palestine does not justify extremism or terrorism but it is the one source to reach across that spectrum, but one thing to make progress in this regard is not to put Israel at risk. At this moment Palestinians are living in miserable conditions without the hope for future, we have to give them this hope.

Q: How to deal with Iran and Syria?
A: We offer them a strategic choice. My remarks are misinterpreted both in regard to Iran and Syria. One day I am saying "take military action" and next day I am saying "we are the partners for peace", but what I am saying is we should offer the vision to whole of the region making progress for Palestine and making sure that democratic government in Lebanon is secure and support movements for democracy in the region.
There is a strategic choice for Iran and Syria that if you want to work with us then be a part of that. On other hand if you support the terrorism in Lebanon, Iraq and Syria then people will consider you the part of the problem not the part of the solution. We both have got a strategic choice.

Q: Do you support the idea the idea to engage Hamas and Hezbollah in a dialogue?
A: I have taken through the Northern Ireland peace process. I have talked to those people who previous governments did not think to talk. It's not the question of dialogue but the only way we make progress as if we are solving problems through politics not through problems. Now there is no difficulty in, for example, Hamas became part of national unity and that national unity abided by the United Nations principle' of course we should talk to them.
Q: There is less home ground terrorism in the USA, all 9/11 attackers came from the outside, but there is lot of home ground terrorism in the UK? What is the reason for that?
A: I think this ideology of extremism is exported all around the world. UK is not the only country with home ground terrorism there are some other countries in the Europe too which are having the same problems.
The answer is to create the strong support for moderate and tolerant principles within the community to root out extremism and to mobilize the moderate majorities of the Muslim from the UK and Pakistan to defeat this thing. You have got to win the minds and hearts of the people as well to make them secure and that is what I think we are doing now. Pakistani community and Pakistani leaders in the UK are playing part in it.
Q: Many people in Pakistan view that UK has the moral responsibility to do something about the Kashmir dispute resolution because it is the unfinished agenda of 1947. So do you think that a Belfast kind of resolution is possible in Kashmir?
A: I have tried to do anything as I can to help this situation in the past in the end it is going to be resolved by the India and Pakistan. There are hopeful sides, if you have been taking this interview to me five years back and even after Sep 11, then the first question would be Kashmir but not now. I have asked these both to the leaders of India and Pakistan to resolve it. India and Pakistan are two important countries of the region and in few years would the powerful countries as well. I ask them to get away resolve this issue then concentrate on the things which will determine your future like economic development and regional security which are to do with two proud countries, and I think it's with the leadership of two countries to deal with this issue. This issue is very important for both of the countries and we can't interfere, we should help in the partnership of India and Pakistan.
Thank you, Mr. Prime Minister.
© Hamid Mir, GEO TV 2006
About Hamid Mir:
Hamid Mir is the most famous Pakistani journalist. He has conducted three interviews with the leader of Al-Qaeda, Osama bin Laden, including one interview short time after the terrorist attacks against the USA on September 11, 2001. Mir, who is presently heading the Pakistani Bureau of the GEO TV, and also writes for "Dziennik", reported for the world media about the tragic earthquake in Kashmir, in October of the last year. He is the recipient of many awards for journalists. Mir also has a high reputation as one of the best and most impartial experts on the Middle East.

Hamid Mir's exclusive Interview with Tony Blair is on the headline (front page) of today's issue of Axel Springer Poland's "Dziennik" daily, one of the three top Polish daily papers.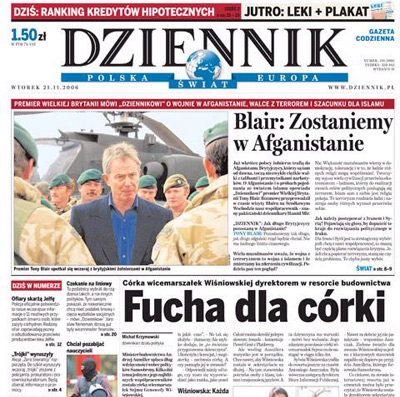 The title on the front page: "Blair: We will stay in Afghanistan", then it continues on pages 8-9, under the title: "BLAIR: THIS IS NOT A WAR AGAINST ISLAM"

Dziennik daily paper

This exclusive interview with the British PM Tony Blair was submitted to the Canada Free Press & Journalismus Nachrichten von Heute by David Dastych, the owner of David's Media Agency in Warsaw, Poland
sfux - 20. Nov, 16:46 Article 1850x read