The Threat of "American Hiroshima" and the Radical Islam

Hamid Mir
- Nobody can deny that there are more than 6300 terrorist attacks after 9/11 all over the world in which Muslims were involved. It does not mean that all the Muslims are terrorists.
The fact is that in all these 6300 terrorist attacks more Muslims were killed than non-Muslims. In most of the cases attackers and victims were all Muslims. Dargai is the recent example where one Muslim suicide bomber killed more than 43 Pakistan Army soldiers. All of them were Muslims. The tragedy of Dargai indicates that Islamic radicals are becoming a threat not only for non-Muslim invaders in Muslim countries, but they have become a threat for the Muslim allies of the West in the war against terror inside the Muslim countries.
Islam is a solution and extremism is a problem
However the Muslim allies of the West, like General Pervaiz Musharraf, are very unlucky. On one side, their friends like George W. Bush have always praised their efforts in the war against terror, but on the other side Western writers like Robert Spencer are creating an impression that the real problem is not radical Islamism: but Islam as such. Robert Spencer claimed that Islam is a violent religion, which orders Muslims to kill all the Jews and Christians, he is also alleging that the Holy Quran allows Muslims to lie and so Muslims should change the Quran. Robert Spencer is wrong. Islam allows Muslim men to marry Jewish and Christian women, without changing their religion. What does it mean? Islam is a tolerant religion. Robert Spencer cannot deny the fact that Prophet Muhammad (PBUH) himself struck a peace-deal with Jews of Medina, if our Prophet could have a peace-deal with Jews, we can also have a peace deal with Jews and Christians.
I don't understand why some Western writers are trying to impose a radical form of Islam on all the Muslims.I am not a Muslim scholar, but – for me - Islam is very simple, and according to my understanding, Islam is not violent, it is peaceful. Islam says that the blood of an innocent non-Muslim is equal to the blood of a Muslim. The Quran speaks for truth, there is no permission in the Quran for lying. Robert Spencer cannot malign Islam with wrong facts and figures. He cannot mix-up real Islam with extremism.
Islam is a solution and extremism is a problem, so Islam and extremism are two different things. I believe that the presence of the Muslims and existence of Mosques in America and the West provides the biggest security for the American non-Muslims. That is the reason Al Qaeda wants Muslims to leave America, because if there were another attack in America, bigger than 9/11, a lot of Muslims would also be killed and that attack could give a bad name to Al Qaeda. I think that there was no big terrorist attack inside America after 9/11, primarily because of millions of Muslims living there, and in spite of the fact that Al Qaeda wants them to leave America, they are not leaving.
There are several other reasons for a delay of the WMD attack, called "American Hiroshima" and announced by Al Qaeda, but one important reason is that millions of Muslims are still present in America.
How I got in touch with Osama bin Ladin
Before going into the details of the al-Qaeda-conceived "American Hiroshima" plan, I would like to tell you something about Osama bin Ladin. A number of people around me are interested in one simple question: how I got in touch with the most wanted person in the world? I still believe that it was one of my columns, written against the Taliban, which put me face to face with Osama bin Ladin. I remember that only a few days after the capture of Kabul by the Taliban militia in September 1996, I was traveling with the then Prime Minister of Pakistan Ms. Benazir Bhutto to cover her visit to Britain and the United States.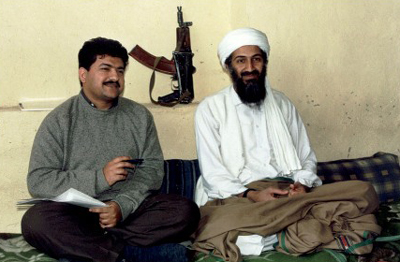 I raised a question: If the US thinks that Osama is a terrorist, then why it is supporting the Taliban, who are protecting Osama?"
She delivered a lecture on the situation in the South Asia at the International Institute of Strategic Studies, in London. In her speech she supported the Taliban. The Student Militia (the Taliban) captured Kabul on 26th of September and, on the 30th of September 1996, Ms. Benazir Bhutto was trying to convince her Western audience in London that the Taliban phenomenon was indigenous and that Pakistan was not covertly supporting them. When she finished her lecture, a Pakistani human-rights activist, Asma Jahangir, stood up and asked: "The Taliban are closing down schools for girls in Afghanistan and you are supporting them, how can you claim to be a champion of women's rights?"
After coming back to Pakistan, I wrote a column (on 8th October 1996), in an Urdu "Daily Pakistan", entitled: "Why the US is supporting the Taliban?" I quoted three British newspapers in my column: the Observer, the Sunday Times and the Independent that had clearly accused in their reports that Americans were secretly supporting the Taliban, who were also protecting Osama bin Ladin. Tim Mac Grick filed a report from Kabul, published on 6th October 1996 in the Independent. The report said that both the US and Pakistan were supporting a group, which was involved in human-rights violations in Afghanistan. Referring to the report in my column, I raised a question: "If the US thinks that Osama is a terrorist, then why it is supporting the Taliban, who are protecting Osama?"
My hard-hitting column on the Taliban was published in a paper which was very popular in the Pushtoon-dominated North West Frontier Province (NWFP) of Pakistan. A few days after that, some Taliban officials contacted me and expressed their desire that I should meet their leader Mullah Mohammad Omar in Kandahar. I was not interested to meet Mullah Omar at that time, because the political situation in Pakistan was heading towards a dramatic change. According to my sources, President Farooq Leghari was conspiring to oust Prime Minister Benazir Bhutto and I was more interested in the political developments inside Pakistan. (Benazir was finally removed on November 6, 1996.)
Then came another surprise. The US Assistant Secretary of State Mrs. Robin Raphael, speaking in a closed-door UN session in New York on November 16, 1996 bluntly explained: "The Taliban control more than two-third of the country, they are Afghan, they are indigenous, and they have demonstrated staying power. The real source of their success has been the willingness of many Afghans, particularly Pashtoons, to tacitly trade unending fighting and chaos for a measure of peace and security, even with several social restrictions. It is not in the interest of Afghanistan or any of us here that the Taliban be isolated."
I was surprised that Robin Raphael was not bothered by the "social restrictions" the Taliban imposed in Afghanistan. To know more about student rulers, I decided to visit Afghanistan and to meet Mullah Omar. I contacted some Taliban officials through a prominent Pakistani religious leader Maulana Sami ul Haq and I reached Kandahar next month.
I met Mullah Omar, Mullah Ghaus and lot of other Taliban leaders in Kandahar. Most of them complained about my column of the 8th October in the "Daily Pakistan" and about what I said that Radio Tehran declared them "American Agents" by quoting my column. I still remember the words of Mullah Omar echoing in my ears. He said: "If we were American agents then why we could have good relations with their big enemy Sheikh Osama?" I asked: "Where is he" and Mullah Omar simply answered, "Sheikh is living in Jalalabad." I asked then: "if you were not American agents, why didn't you arrange my meeting with Osama bin Ladin and if he said that you were protecting him, then the world would come to know about the reality and I would also write that you were not working for Americans."
Mullah Omar was sitting on ground; after hearing my words he stood up in happiness, clapped his hand like kids do, and gave instructions to contact Maulvi Younas Khalis in Jalalabad for arranging my meeting with Osama bin Ladin.
In February 1997, a Taliban delegation had flown to the Unocal Corporation headquarters at Sugarland, Texas, for a whirlwind of corporate hospitality. I again contacted Taliban officials in Kandahar and I asked them: while their relations with Americans were still developing, how could they refute the charges that they were part of the American agenda?
The reaction of the Taliban forced me to realize, for the first time, the simmering differences within the Taliban ranks. Many Taliban leaders openly criticized Mullah Ghaus for his engagement with the Americans. In March 1997, some Arabs and Afghans in Islamabad contacted and informed me that I would see their "Sheikh" soon in Afghanistan, but they instructed me to keep quiet. I noticed that some of their Pakistani collaborators started monitoring my daily movements. After a few days of espionage activities, one night they came to my office in Melody Market, Islamabad and told me to get ready to go with them next morning.
I reached to Jalalabad in Afghanistan the same evening and I met Osama bin Ladin for the first time. I spent my first night in his cave and, next morning, when he was proposing a grand alliance between Afghanistan, Pakistan, Iran and China against US imperialism in his interview, I was completely confused. I was thinking if the Taliban were implementing any American agenda, then why this man was terming America as an "evil"?
If Pakistan was supporting the Taliban to minimize the Iranian influence in Afghanistan, then why this dangerous guest of the Taliban was proposing an anti-American alliance in the region, which included Iran? If the Americans were aware that the Taliban forces were protecting Osama, then why they were supporting them? Who was using whom? Nobody can deny the fact that the American administration ignored the rise of the Taliban and protected them to protect the US oil concerns.
Just weeks before the 9/11 attacks, US Assistant Secretary of State Christina Rocca met Taliban officials in Islamabad, in July 2001. She announced aid for the Taliban, worth 43 million dollars in food and shelter. When Christina Rocca announced that aid, I asked several of my American friends: why the US was unable to understand the strong ties between Mullah Omar and Osama bin Ladin? I got no satisfactory answer from any one of them.
Al Qaeda's nuclear ambitions
I came to know about the nuclear ambitions of Al Qaeda in May 1998 when I traveled to Afghanistan again and I saw a Ukrainian scientist present in the ranks of Al Qaeda. I also met two black Americans around bin Ladin in Kandahar. At that time Osama bin Ladin was not willing to speak about his nuclear plans. I spent two days with him and confronted him on a question: how can he justify the killing of all the Americans in the light of Islamic teachings because in Islam the blood of an innocent non-Muslim is equal to the blood of a Muslim. My interview with him was very long. Actually it became a hot debate, and finally I told him that I cannot summarize this whole conversation in one newspaper interview and I would write a book now.
In the next three years, the presence of the Ukrainian scientist and of the two black Americans around OBL was a matter of great confusion for me. I was thinking that if OBL wants to kill all the Americans, including Muslims, then why two black American Muslims joined him? I tried to find out answers to these questions and I delayed my book.
Just one day before my third interview with Osama bin Ladin in Afghanistan, in November 2001, I met an Al Qaeda operator Yousaf in a Kabul hideout, where I was asked to wait. Yousaf was talking about the use of nuclear materials inside America. At that time Kabul was under intense US bombing. I also lost the hope of my own survival, I wrote a letter to my wife and apologized for my blunder of visiting Afghanistan during war times, but there were no means of sending that letter to Pakistan.
Then I noticed that Yousaf wrote something on a piece of paper and handed over to one Chechen fighter. He asked him to deliver that message as soon as possible to some fellow fighters in America and make it sure that they should not be panicked if any of our important leaders were martyred, they had to follow the instructions of Jaffer.I requested from the Chechen fighter that he carry my letter with him and just post it after entering inside Pakistan but he said "sorry" to me in a broken English, because he was not going to Pakistan, he was going to Iran.
Anyhow, the next day I was sitting in front of Osama bin Ladin and that was the time when Osama clearly admitted that he has nuclear weapons as means of deterrence. Within a few minutes after his disclosure, Dr. Ayman al Zawahri told me that it was not difficult to buy some suitcase nukes from Russian underworld just for few hundred million dollars.
After my last meeting with Osama bin Ladin, I have traveled to Afghanistan again and again. I also visited Iran, I visited Russia and I traveled in the mountains of Chechnya, I visited Uzbekistan, Syria, Lebanon and also I went to India, just to investigate about the nuclear capabilities of Al Qaeda.I got lots of information about the smuggling of enriched uranium and about the purchase of some suitcase nukes by Al Qaeda from Moscow. I interviewed one Chechen leader who told me that they had smuggled three suitcase nukes from Russia to Georgia, and from Georgia to Italy. At least two of the suitcase nukes were finally smuggled inside America with the help of Italian underworld.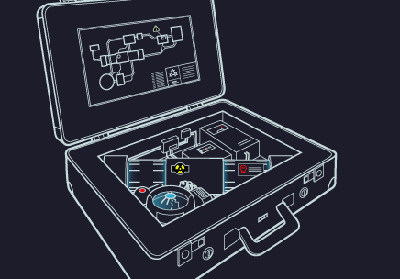 I interviewed one Chechen leader who told me that they had smuggled three suitcase nukes from Russia to Georgia, and from Georgia to Italy. At least two of the suitcase nukes were finally smuggled inside America with the help of Italian underworld.
Certainly some Pakistani scientists were also in contact with Al Qaeda, but an Egyptian "brigade" of Al Qaeda scientists tested a dirty bomb in the mountains of Kunar in 2000, without the help of Pakistanis, and that was the reason an Egyptian scientist lost his eyesight due to radiation.
Two attacks on America and the role of Iran
This is very important. Al Qaeda planned two attacks against America,one was implemented on 9/11 and the second was not yet implemented.A total of 42 fighters had been trained for attacking America, 19 of them were used and killed on 9/11, and the remaining 23 are still at large. These 23 "death lovers" are hiding somewhere in America. These 23 people are the real threat to America. It is also a fact that more than 8000 fighters were trained by Al Qaeda in Afghanistan during 1996-2001.Many of them are also hiding in America and in different European countries. They may try to attack with some dirty bombs and maybe with some suitcase nuclear bombs. The threat is real, not only for America but for all the allies of America, including Pakistan.
Just a few days back, 5000 Pakistani tribals threatened Musharraf by suicide attacks in the Pakistani tribal area of Bajour, which is only 300 kilometers away from the Capital Islamabad. This suicide terrorism is the product of the Iranian intelligence in the Muslim world. Iranians gave the lesson of suicide bombings to Hezbollah in Lebanon in the early 80's; Al Qaeda learned it from Hezbollah and then spread it from Iraq to Afghanistan.
In my opinion, the biggest failure in the war against terror is a possible victory of Iran in Iraq, in Afghanistan and in Lebanon. Today the elected PM in Iraq is a follower of Ayatollah Sistani, who is being dictated by Iranians.Today Iranians are helping the Taliban in Afghanistan and they are using Hezbollah in Lebanon. There is no check on Iran and this is the biggest failure in the war against terror. Iranians are playing double games everywhere, they are controlling some government ministers in Iraq and they are also using Al Qaeda in Iraq.
Now they are trying to organize a new Hezbollah in Afghanistan. It is no more a secret in Afghanistan that Iran is providing money and weapons to the Taliban. Some very high ranking Afghan security officials admitted to me that even Russians are using the Taliban against NATO forces in Afghanistan, but they cannot expose Iran and Russia because they have a strong lobby inside the Afghan government.
Afghanistan is becoming a new battlefield between Iran and America.
Russia is on the Iranian side, while more than 37 countries are standing with America. The problem is that the American allies like Pakistan are confused. The majority of the Pashtun population in Pakistan is with the Taliban, because they are facing bad law and order situation in their neighboring areas, after the fall of the Taliban regime. Even then Pakistan is helping America.
Since the war against terror has been started, after 9/11, and the Taliban regime was dismanteled, there are bomb blasts in two Pakistani provinces every second or third day, which are not reported here in America. We believe that Indians are using Afghanistan to create disturbance in Pakistan. This situation has created misunderstandings between the Pakistani and Afghani governments, which is very unfortunate.
Many people here think that Pakistan will become a dangerous country without Musharraf. Some people think that the Pakistani nuclear weapons will go into the hands of the Taliban and they will attack America.
When this question was asked to Musharraf recently, he said that according to the constitution the Chairman of the Senate will become the caretaker President, the parliament will elect a new President in three months and his political allies will run the government smoothly.
Nobody can steal our nuclear weapons because they are coded. The Taliban cannot decode them. Our nuclear weapons are India-specific, their range is between 1500 to 2000 kilometers. America is far away from Pakistan and nobody here has a delivery system capable to explode these missiles in America.
There is also another misconception. Many people in the Muslim countries think that America is not fighting a war against terror but it is fighting against Islam. Anti-Americanism is becoming a political culture in the South Asia and the Middle East. I have two examples. President George W. Bush visited India and Pakistan early this year. Thousands of radical Muslims and Hindu Communists marched against America the day Bush landed in India. Same was the case in Lebanon.
I saw thousands of pro-Hezbollah Shia and Sunni Muslims, including Christians, shouting against Condoleezza Rice in Beirut during the recent Lebanon-Israel war. US Secretary of State tried her best to prove that Hezbollah is a terrorist organization and that Israel is fighting against terrorism, but the people of the most modern and most liberal country of the Middle East, Lebanon, were not ready to listen to American government. This war further strengthened the relations between Islamic militants and Christian leftists. President of Venezuela Hugo Chavez openly supported Hezbollah and became a popular figure in many Muslim countries. What does it mean?
Anti-Americanism is not religious, it is mainly political.
The last Lebanon war increased anti-Americanism in Pakistan and Afghanistan and you can see sudden increase in suicide attacks against Western troops after the war in Lebanon. I must say that anti-Americanism in our part of the world is not increasing because the Americans are really bad people. I think most of the Americans are very simple and innocent people, Muslims are still treated better in America, than in the many Muslim countries, freedom and democracy is the real strength of the American society. I think that actually America is facing an image problem.
For example, Palestinians can get American citizenship even today, but they are not welcome in many Arab countries, then why America is not popular among most of the Palestinians? I think the Americans need a serious debate on that question.
Britain is called "mother of democracy," but today British Muslim women are facing some new laws, of which they think they are not democratic. Muslim women are not feeling comfortable even in France. As for as America is concerned, Muslims are not facing any problems here in practicing Islam. Then why many Muslims in Afghanistan and Iraq believe that the American war against terrorism is a "Crusade", a Christian war against Islam? Who is responsible for that misunderstanding?

Weak US strategy.
First of all, Americans depended on warlords and drug smugglers, after the fall of the Taliban in Afghanistan. That is why today Afghanistan is the world's largest producer of opium. The most significant strategic miscalculation was the US invasion of Iraq, without stabilizing Afghanistan first. There is a perception in the Muslim world that the US attacked Iraq not for the (non-existent) WMDs but for oil. Dismantling of the administration and the Army in Iraq further deteriorated the situation. The UN proposed a government of technocrats in Iraq, but Paul Bremer imposed a corrupt person like Ahmed Chellabi as the new PM of Iraq, a man who was actually an Iranian agent. Iranians provided safe passage to Al Qaeda for entering into Iraq and that's how Al Qaeda got an opportunity to establish new training camps there.

Conspiracy therories about 9/11.
Many Muslims still don't believe that Osama bin Ladin is responsible for the 9/11 attacks. There are many books written (like "9/11 The Big Lie" by Thierry Meysson) in the West and also some films produced in the West, denying the official version of the US government on 9/11. This "conspiracy theories" are very popular in the Muslim world. Many people tell, without any hesitation, that 9/11 was a "Jewish conspiracy" against the Muslims.

US support for authoritarian regimes.
Many Muslims don't like America for its support of autocratic governments in the Middle East. President Bush is proud for liberating Iraq and Afghanistan from their repressive regimes, but why not liberate Saudi Arabia, why not Egypt and why not Qatar?

Lack of unity.
The allied countries in the war against terrorism are not united. Spain and the Philippines have pulled out their troops from Iraq. On the other side, the Pakistani and Afghani governments are accusing each other for playing double games. They couldn't still agree on how to stop the illegal cross-border movement. You will be surprised to know that even today there is no international border between the two countries. People can cross the border without any documents. The ultimate beneficiary is Al Qaeda.
What are the possible solutions?

1-
First of all, we have to prove that this war on terror is not a clash of two civilizations, that it is not the war between Islam and the West, and it is really a war against terrorism. World leaders, like John Howard of Australia, should not support the controversial statements of Pope Benedict XVI about the Prophet of Islam. We need to promote a real inter-faith dialogue.

2-
Secondly, try to engage popular militant movements like Hamas and Hezbollah in dialogue. At least these two organizations still believe in democracy. Dialogue is very important. When you start a dialogue after lot of failures and casualties, you cannot have a good bargain. This is the case in the North Wazirastan. There, the Pakistani forces struck a deal with the Taliban, after more than 650 casualties on both sides .But now the Taliban fighters have an upper hand in the deal.

3-
America should try to increase the role of the UN, at least in Iraq. If the UN forces can take over Southern Lebanon from Hezbollah, then why not in Iraq. US troops can operate under the command of the UN, and the number of Asian and African troops must be increased in eventual UN forces deployed to Iraq. The success in Iraq can lead international community to bring peace in Afghanistan, on the same lines. I know that a lot of Americans have negative thinking about the UN, but they have no other option than to strengthen the UN.

4-
The NATO forces in Afghanistan (ISAF) and the Pakistani forces in their own tribal areas must avoid killing innocent civilians. Try to understand their tribal culture, if you kill one innocent among them, they will kill at least ten on your side in revenge, by becoming suicide bombers. Most of the suicide bombers in Afghanistan and Pakistan were those who wanted to take revenge on the security forces. There is no international border between Pakistan and Afghanistan. We need a proper border in the North- West of Pakistan, but also the same border in the South of Afghanistan to stop the Iranian interference.

5-
The US Government must launch an aggressive public campaign in the Muslim countries for improving the image of the United States there. On the other hand, more and more Islamic scholars should be invited to the US for improving the image of the Muslims.

6-
And finally, America must withdraw its support from the repressive Muslim regimes and must promote real democracy in our part of the world. We want democracies with independent judiciary and with free press. Freedom and democracy is the real strength of America, we need the same thing in our societies. Promoting real democracy is the ultimate solution, the only way to defeat terrorism. Now in Afghanistan you have a vibrant parliament, but without independent judiciary and with no free press. Injustice, illiteracy and poverty create terrorism. We have to defeat injustice, illiteracy and poverty, while defeating terrorism.
In the end I must say that America should secure its border with Mexico. This 2000 kilometers loose border is the biggest route of Al Qaeda infiltration into America. Al Qaeda has transferred their weapons and suicide bombers inside America via the Mexican border, there is no use of asking common passengers to take of their boots off in all of the American airports until the Mexican border is not properly sealed.

This paper was presented in a symposium in Las Vegas organized by America's Truth Forum in November 2006

Muslims ordered to leave the United States: Next Attack Imminent
sfux - 21. Nov, 08:21 Article 10670x read