Soldier Pleads Guilty - First Sentencing Expected

Marie Tessier / Womensmediacenter
- U.S. Army Spec. James P. Barker on Wednesday pleaded guilty to 16 crimes related to the gang rape and premeditated murder of 14-year-old

Abeer Al-Janabi
and her family in Mahmoudiya, Iraq, last year. He is to be sentenced today, Army officials and his civilian defense attorney said.
"Spec. Barker is deeply remorseful about what happened, and at the sentencing he will apologize to his command, to the Al-Janabi family, and to Iraq for his actions," said David Sheldon, Barker's Washington-based civilian defense attorney, speaking from Fort Campbell, Kentucky.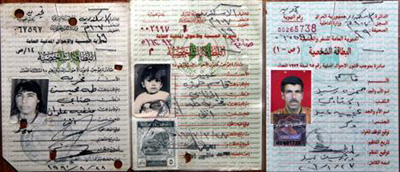 Identification cards show Abeer Qasim Hamza al-Janabi (C) with a date of birth of August 19, 1991, her mother Fakhriya Taha Muheisin al-Janabi (L) and her father Qasim Hamza Rasheed al-Janabi.
REUTERS/Handout
With his plea, Barker avoids a possible death penalty had the case gone to court-martial. It's also possible that 23-year-old from California could become eligible for parole in 20 years, rather than face a mandatory minimum of life in prison, attorney Sheldon says.
Barker is the first of five men involved in the March 2006 attack to plead guilty, and his attorneys say he will cooperate with the prosecution. Sgt. Paul E. Cortez, Pfc. Jesse V. Spielman and Pfc. Bryan L. Howard are charged with rape and murder and await court-martial. In an unusual arrangement, none entered a plea at the time of their arraignments in recent weeks, according to Fort Campbell officials.
A fifth man, former Army Pfc. Steven D. Green, has been charged in federal court in Kentucky on rape and murder charges. He was honorably discharged from the Army because of a personality disorder about two months after the March 2006 attack, according to military officials.
Sgt. Anthony W. Yribe, is charged with dereliction of duty for failing to report the crime.
Spec. Barker will serve his sentence at Fort Leavenworth, Kansas, Sheldon says. He will not draw a salary during that time. His wife and children "will have to move on with their lives," said the attorney.
Barker's plea included four counts of premeditated murder, four counts of felony murder, one charge of rape, two charges of obstructing justice, two counts of conspiracy, one charge of arson, one count of housebreaking, and one count of drinking alcohol, which is illegal in Iraq.
"Spec. Barker doesn't feel he'll be at peace because of this. It's disturbing," Sheldon says. "Anyone would be and should be tormented by these events."

Marie Tessier, an independent journalist and commentator, writes frequently about violence against women.

See also: Rape, Murder, and the American GI

This article was first published @ womensmediacenter

Action for Abeer
sfux - 28. Nov, 08:38 Article 2637x read