Was My Son Poisoned in England?

David Dastych
- In mid-December, at 04:00 a.m., I received a sudden phone call: "Your son, Olaf, died tonight." It was a terrible shock. "Could that be real?", I thought in the first moment, still emerging from a sound sleep. "Maybe this was a bad dream?" But it wasn't. I called my ex-wife, Kalina, and she burst into tears. "How did it happen?," I asked her. And she told me about the sudden death of our son, witnessed by Agnes, his fiancée. It took only a few minutes, and an emergency team arrived very soon, but nothing could be done. Olaf died almost at once. How this could happen to a young, active and full of vigor man of 24? Nobody could explain. Doctors claimed it was a very strong infarct, but they were not sure. Agnes told us, he died in her arms. She was deeply shocked, and so we all were.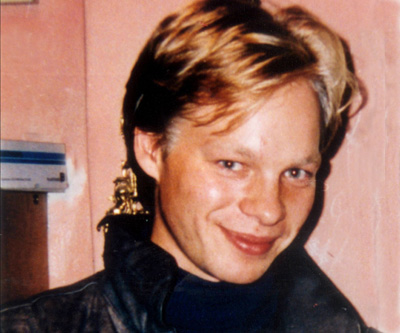 Olaf Dastych - "It is a small tree now but will grow straight and strong."
There was no autopsy made on the body. Olaf's mother refused it. The funeral was arranged on the fifth day, with a crowd of people attending and Olaf's friends playing music for him in the funeral house. It was a frosty winter, and a new part of the huge Northern Graveyard in Warsaw, still bare, with almost no trees and bushes, resembled a snow-covered field in Siberia.
Homecoming from Bradford
Olaf Dastych graduated with honors from the Warsaw Higher Economic School (SGH) in 1996. A day after his graduation ceremony, he went to England, where he was granted a scholarship for the MBA studies at the Bradford University. This was not his first term abroad, as he had a chance to study in Denmark before. But this time he expected to accomplish much more: a full post-graduate Master of Business Administration course that could open a bright professional career for him in Poland and elsewhere. He worked very hard. Ged Yardy, his friend at Bradford MBA, wrote to me after Olaf's death: "I think we were one of the best teams on the MBA. Olaf was central to this, his razor-sharp mind demonstrated an intelligence and maturity beyond his years. I'm sure he would have gone on to do great things. He was well liked by all."
In December 1996, my son took a flight to Warsaw to spend Chanukah with his fiancée and Christmas with his mother and sister, Natalia. He would also meet me, as Sophie and I have invited him to our house. After New Year, he would return to England to continue his studies. But this homecoming from Bradford turned out to be the last trip in his life. Ged, Jaqueline, Violet, Tomo and Pankar of the MBA group missed him forever.
Before and after Olaf's funeral, I kept contacts with people in England, who knew him: his student friends, members of the MBA faculty, businessmen and officials. I called them up by phone and I faxed letters to them, trying to find out more details about his studies and his everyday life at the Bradford University.
As soon as on December 17, 1996, I received a letter from Dr. Christine Parkinson, the Chairman of the full-time MBA Programme. She wrote: "Olaf was the youngest student on our MBA. He had a relatively short period of work experience but was accepted on the programme because of his outstanding academic achievements and what we saw as his potential for a very successful future. His progress on the first stage of the course fully justified our confidence in him and members of staff who taught him, and students who worked with him on joint projects, were impressed with his abilities."
Dr. Parkinson added a bit of non-academic information, too: "He was also a very popular student who had made many friends here. He involved himself in all social activities organized by the MBAs. The last time I saw him was at the MBA Christmas party just before he left to return to Poland…"
From other people I learned, after the funeral held on Friday, December 20, that Olaf suffered a sort of heart-attack with very strong stomach pain after one of the parties he took part in, before homecoming. He was admitted to a hospital in Bradford for medical examination. Doctors asked him to stay longer in bed but Olaf refused, promising to show up for more tests after his holidays in Poland.
This information, and a lack of a post-mortem examination, turned my attention to something very suspicious. Could my son be poisoned in England? If so by whom and for what reason? I was really alarmed and I began to look back at the past events, as for a possible reason for treating my son with a death-causing "cocktail".
"They never forget"
When I joined the CIA in 1973, in South Vietnam, one of my main concerns was how to protect my family, in case my covert mission was to be discovered by communist authorities. My concerns were met with proper attention in Langley, but there was no absolute guarantee of my family's safety. A short time before I was arrested in Poland, in 1987, I had met with a high-ranking U.S. diplomat of the U.S. Embassy in Warsaw. He was aware of my mission.
I told him that the Polish and probably also the Soviet secret services had been tracing me for a year or so. They had no evidence but they might try to arrest me any time then. I asked for a protection of my close family. As I took no money from the American Intelligence, the only favor I asked for was to help my son to obtain scholarships for his future studies at one of the Western universities. I gave the U.S. diplomat a background on Olaf's schooling, his language proficiency and other personal details and photos. After some time, I received a positive answer.
I went on with my secret work as usual, traveling to the USSR and to other communist countries. I could not avoid an arrest in March 1987, and I spent three years in communist prisons. In this time, Olaf graduated from his highschool and began his studies. Later on, he was invited to foreign trips, then he earned a scholarship to Denmark, and finally went on to the Bradford University for a post-graduate MBA program. His future looked bright. Until that fatal day…
In the 1980s and then in the 1990s, I survived at least two attempts on my life. The perpetrators were either Soviet operatives or ex-KGB mafia killers. In the early 1990s, after leaving a communist prison in Poland, I went abroad and I volunteered to monitor the illegal nuclear trade and the secret financial deals between some states of the former USSR and "the outside world". In this activity, I became dangerous to ex-Soviet secret services and to mafia organizations. But after December 16, 1994, when I broke my vertebral column in the French mountains, nobody tried to kill me any more. I was not a worthwhile target.
Why these enemy forces would hit my son? A defector from the Soviet secret services, whom I had met, warned me that: "They never forget". There is a real possibility that these enemy elements could have revenged themselves on me, poisoning my son with a non-traceable substance, causing a natural death. All leads point to England as a possible place of the poisoning. And the timing of this attempt on Olaf's life is also ominous: almost exactly two years after my accident in France, in mid-December 1994.
Because of my invalidity, I was not able to go to Bradford and (possibly) to examine Olaf's medical records there. I am still determined to do that, and to talk to some people, who met my son at the University in December 1996, a week or so before his sudden and mysterious death.
A grave in Poland and a memorial in England
Three months after Olaf's death, in March of 1997, I received a letter, signed by Professor David T H Weir, Director of the Management Centre at the University of Bradford. He wrote: "I am writing to tell you about a simple ceremony which we held today (March 4, 1996) to commemorate your son, Olaf Lech Dastych, and his time with us as a colleague and friend.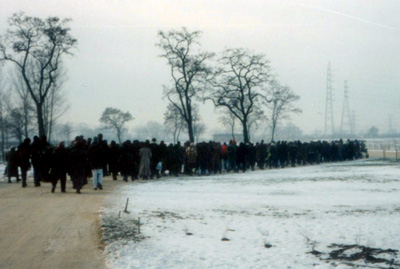 Olaf's funeral, Warrszawa, Dec.20, 1996
As you will know, we planted a tree and unveiled a simple plaque on a large rock in the grounds of the Management Centre, in Olaf's memory. Ged Yardy, one of his friends, gave a very moving speech and I read two poems which I felt were appropriate to the occasion. You may know them. Both are by the American poet, Walt Whitman. He was a great internationalist who believed in the brotherhood of all peoples. The first is from Songs of Parting and is called "As the Time Draws Nigh". This poem looks towards the poet's own death. He uses the wonderful phrase to justify his life that his soul "has positively appeared."
As the time draws nigh glooming a cloud,
A dread beyond of I know not what darkens me.
I shall go forth,
I shall traverse the States a while, but I cannot tell whither or how long,
Perhaps soon some day or night while I am singing my voice
will suddenly cease.
O book, O chants! must all then amount to but this?
Must we barely arrive at this beginning of us? – and yet it is
enough, O soul;
O soul, we have positively appear'd – that is enough.
[Then follows the second poem called "So Long!"]
Professor Weir concluded: "Olaf was with us for a very short time but he certainly "positively appeared". He left an indelible mark in the memories of the students and staff who came into contact with him. And as the poet said: "He offered his style to everyone". He was a highly intelligent and contributive young man. We are pleased and proud that he spent some time with us.
When you come to Bradford, you will see the small memorial that we have created to remember him. It is a small tree now but will grow straight and strong. When you come to Bradford, you will know that, as Olaf's parents, you are among friends."
Thank you, Professor David T H Weir. Thank you all of Olaf's Friends. I shall come to Bradford in the footsteps of my late son. I will also try to find out when and where my unknown, ruthless enemies eventually poisoned him. "They never forget", these hoodlums on Earth. But I, Olaf's mourning father, "I will always remember".
God Merciful, Thou only knows the truth.
sfux - 19. Dez, 08:02 Article 3913x read