CIA Top Dirty Spy Dangles Bait

Cryptome
- With little fanfare, Jose A. Rodriguez Jr, who heads the National Clandestine Service (NCS) -- the spies, torturers, and terrorists of the CIA -- had his cover lifted about a month ago. CIA spokesman Mark Mansfield said the driving factor was his interest in publicly participating in minority recruitment events. The real reason could be he is interested in spending some time at his expensive home in a housing development in the northeast corner of Loudoun County, VA, with his wife Millie. He's also retiring later this year after more than three decades with the agency.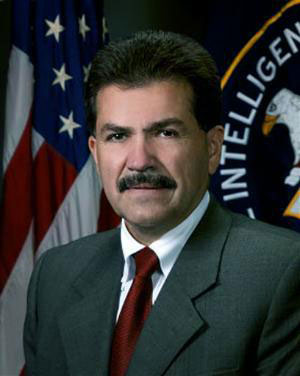 The most important man in the U.S. spy game: Jose A. Rodriguez Jr
Rodriguez is the most important man in the U.S. spy game whose name you probably never knew. When he was mentioned publicly before now, he was referred to only as "Jose." However, we published an article about him on Wikipedia over a year ago.
Rodriguez became head of the CIA's clandestine service in November 2004.
Jose Rodriguez is a native of Puerto Rico. Rodriguez apparently was a military attache -- a MILGP or MILGRP (US Military Group) "commander" (supposedly an Army colonel) -- at the US Embassy in Argentina from 1994-1996. Officially a Military Group officer advises the US ambassador on military matters and is a liason between the US Government and the host country's security and military forces (actually, a funnel for money, arms, and intelligence). US diplomats, even military officers such as the US naval attache in Venezuela, Lt. Commander John Correa, ousted last year for espionage against Venezuela, often are CIA operatives. The CIA turncoat Aldrich Ames once posed as a military officer, and it's likely that Rodriguez was doing so in Argentina.
Besides recruiting the real spies (most of which are traitors to the host countries rather than Americans), CIA overseas agents (posing as diplomats in US embassies) aid US-puppet governments, no matter how repressive, and seek to overthrow independence-minded host governments (like Hugo Chavez's), no matter how democratic.
During the tenure of Ernesto Samper as president of Colombia (Aug. 1994 to Aug. 1998), Rodriguez began serving as the CIA's station chief in Bogota, Colombia. Rodriguez probably served as COS in Bogota sometime between 1996 and 1998. Soon after Samper became president, the CIA pressured him to assist them in their war, basically a turf war, against the Cali cocaine cartel. Possible enmity between Samper and Rodriguez later caused problems for former US Secretary of State Henry Kissinger as explained below.
Apparently the CIA tried to muscle in on the drug profits of the cartel and blackmail Samper to obtain influence for the CIA and/or the USA. (Is the CIA working for the US, for US business interests, for itself, for some other faction, to line its operatives' pockets -- or all of the above?)
Regarding a 1997 incident, according to Jason Vest of The Nation magzine, Rodguez has been criticized by Agency officers for helping out a "friend" arrested for drug offenses in Latin America. The true story is apt to be much more complicated than that. Rodriguez could claim he was acting in the line of duty by protecting a CIA asset (foreign "assets" are foreign nationals who do the bulk of the CIA's spy work) or investigation.
In 1999 Rodriguez was the chief of the large CIA station in Mexico with perhaps 500 agents.
Jose A. Rodriguez next became the chief of the Latin America Division of the Operations Directorate of the CIA, presumably back at the McLean, VA, headquarters. (Most CIA employees live in McLean and other small towns in Virginia, as well as Washington DC.) The Latin American division is considered obscure by CIA-watchers, but CIA fight-provocation among neighboring nations, and subversion within individual nations, was perfected there, notably in Nicaragua, Honduras, and El Savador in the
Iran-contra era
(1980s)
Provocation and regime-changing skills are especially desirable to the CIA in the Middle East and Latin America right now.
Jose Rodriguez assumed in about May 2002 the post of Director of the CIA's Counterterrorism Center (CTC), near the top of the CIA totem pole. He was at this job as George W. Bush putsch-making gathered steam in the wake of 9/11/2001. Rodriguez as D-CTC may have been one reason Henry Kissinger resigned (in Dec. 2002) as chairman of the commission investigating 9/11. Kissinger had been paid as a consultant (apparently in the period 2001-2002) by Ernesto Samper, and the 9/11 job would have involved interfacing with Rodriguez, an old Samper antagonist.
Jose A. Rodriguez was promoted to become the CIA's Deputy Director for Operations in November 2004, succeeding Stephen Kappes. This is perhaps the CIA's No. 2 position in terms of power and put him in charge of the CIA's clandedestine (spying and dirty tricks) operations, including illegal renditions and operation of illegal "black hole" prisons for Muslims. In this job Rodriguez had to sign off on all applications of "harsh interrogation" methods (torture).
Rodriguez dropped out of sight soon after his appointment was announced in the media, but the CIA never reported any reassignment for him.
After the 2005 reorganization of the Intelligence Community under Director of National Intelligence John Negroponte, Jose Rodriguez continued as the head of CIA clandestine operations. This is basically his old job (DDO) with a new title, Director of the National Clandestine Service, and new responsibilities to oversee day-to-day operations of all intelligence gathering by America's human (more or less) agents.
This would include agencies besides the CIA, but not electronic data mining and other methods besides HUMINT.
On February 7, 2006, Rodriguez fired his successor as Director of the Counterterrorism Center, Robert Grenier, for not being "aggressive" enough in dealing with terrorists (not vicious enough).
Rodriguez's publicity shyness compared to his predecessors apparently was in deference to his wife's desire to pursue a career as a physical trainer rather than any requirement of his job.
(Interestingly, there is another Jose A. Rodriguez, supposedly a professor at the University of Barcelona in Spain, who is a world-class expert on antiterrorist methods, especially the use of communications intercepted by the National Security Administration (NSA). This "professor" is even more elusive than the NCS/CIA man.)
sfux - 12. Aug, 21:31 Article 16220x read