Iranian government clandestinely supporting Taliban
Hamid Mir
- The US government has urged President Hamid Karzai to stop a secret Iran-Taliban cooperation against Nato troops in Afghanistan. President Karzai is not ready to admit any negative Iranian role in Afghanistan publicly but he has given a quiet assurance to the US officials that he will speak with Iranian government on this issue very soon.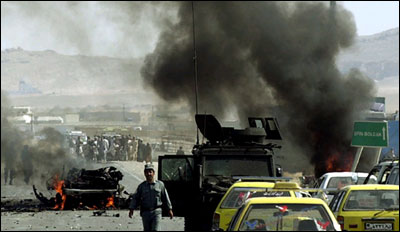 NATO attacked by Taliban
For the first time in the last six years, Afghan security officials have started claiming that Iran is secretly providing highly-sophisticated weapons to Taliban from its western borders. Col Rehmatullah Saafi, the security in-charge of the areas bordering Iran, told this scribe that he had provided all the details to his seniors about the secret Iran-Taliban cooperation in western Afghanistan. He said that Iran was playing a dangerous double game in Afghanistan. "We know the names of the people getting training inside Iranian territory and we have also arrested the carriers with heavy weapons coming from Iran to the Islam Qala area," claimed Saafi.
He said that Iran was arming Taliban with roadside bombs, small missiles and other high grade explosives, which are also in use against the US troops in Iraq. He claimed that his commandos had arrested more than a dozen people on the Iranian border in last few weeks carrying Russian and Chinese marked crates filled with sophisticated weapons. Col. Thomas Kelly of the US Army also claimed that "Iranian supplied weapons are a major threat for the Nato forces in Afghanistan."
Highly-placed diplomatic sources in Kabul have told "The News" that US officials have quietly requested not only President Hamid Karzai but also to President Pervez Musharraf to speak with the Iranian government on this issue because both Pakistan and Afghanistan will suffer equally if Iran does not stop arming the Taliban secretly.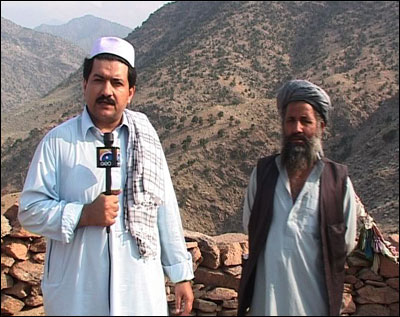 Hamid Mir at Tora Boro 2005
Government sources in Kabul revealed that Iran was not happy on the Pak-Afghan Grand peace Jirga. Karzai assured Iran that Afghanistan will not be used against Iran. Despite his assurances to the Iranian government, it was for the first time that the government-controlled "Afghanistan Times" expressed concern over the flow of weapons to Taliban from Iran in its editorial of Saturday, Aug 11, 2007.
The editorial was a great surprise for many in the Afghan capital who think that Karzai administration is not strong enough to open a new front against Iran because they are already fighting a war of words with Pakistan.
Taliban sources in Afghanistan are not ready to confirm their new secret alliance. Taliban held their first-ever public press conference on Saturday in Ghazni against Karzai government. They gave a clear message to more than 25 journalists that Karzai had no writ in areas outside Kabul.
Many journalists including this scribe visited Ghazni province and noticed that Taliban had more modern weapons than the Afghan security forces officials.
Some analysts in Kabul said that Iran is trying to engage Taliban secretly just to make sure that these hard-line Sunni fighters will not help Sunni Iranian separatists active in Iranian Kurdistan. Some analysts have a different view. They are of the view that the US Army is surrounding Iran from Iraq to Afghanistan and the Iranians have a right to puncture American encirclement even through Taliban.
Iranian Ambassador in Afghanistan Muhammad Raza Bahram has denied claims of a secret Iran-Taliban cooperation.

Hamid Mir
, the author of this article, is a top Pakistani reporter, head of the Geo TV Bureau in Islamabad. He has won a world-wide acclaim for his interviews with Osama bin Laden and Dr. Ayman al-Zawahiri, before and following 9/11. His new book about OBL is due to appear in Britain, later this year.
sfux - 20. Aug, 08:08 Article 5813x read