Inside the Secret Service's hooker hot spot
Edgar Sandoval In Cartagena, Colombia , Alison Gendar In Washington & Bill Hutchinson
- In the dingy Colombian love club where locals say President Obama's Secret Service agents picked up a harem of hookers, scantily clad women do dirty dances and brazenly sell their bodies.
Small black tables covering a dimly lit dance floor at the Pley Club in a low-rent district of Cartagena were filled Sunday night mostly with tourists.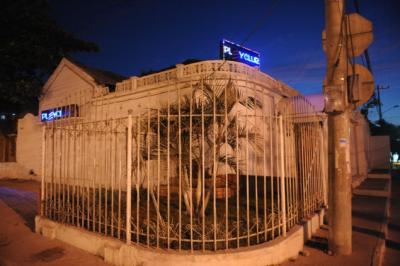 A white stage was reserved for dancers wearing form-fitting, brightly colored dresses that showed off enough cleavage and leg to entice customers to dig deep in their wallets.
It was in this one-story, windowless, brick building with a cheesy neon sign on top that 11 Secret Service agents assigned to protect the President ended up embarrassing their country all for a little fun and flesh, local sources told the Daily News.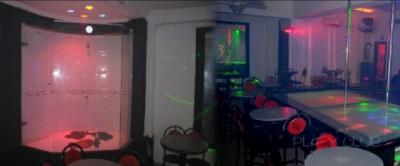 Drinking beers and whisky that range in price from 40,000 to 150,000 pesos ($24 to $84) for bottle service, the agents had their pick of young girls with long, black and brown hair and lots of makeup.
"The gringos got rowdy at the bar. They drank fine whisky and slept with the prettiest ones, the ones that charge 300,000 pesos (about $180)," one club worker told the El Heraldo newspaper of Cartagena. "Some did not want to pay. To make it worse, they almost beat up employees who wanted them to pay up."
Despite the newspaper report, confirmed by locals, Juan Carlos, manager of the club, insisted as far as he knows, the agents never set foot in his premises.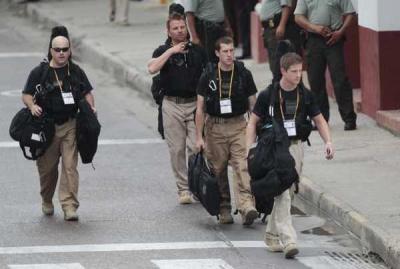 But he was quick to explain the ground rules for buying more than a dance.
"The girls dance for the audience. They put on a show," Carlos told The News. "Then, they walk around and talk to the guys. A dance can cost from 80,000 to 90,000 pesos.
"Then, if they like each other, they negotiate a deal," he said. "The tourists come here and have a good time. We don't let them mistreat the girls. They come to us if someone isn't treating them right. Customers get drunk, but it never gets out of hand."
The agents are accused of bringing their hookers back to the luxury Hotel Caribe in Cartagena and throwing a room-trashing tantrum like a rowdy rocker when confronted about not paying one of them for her services .
The latest twist in the embarrassing international scandal — which has thrust a spotlight on the agency responsible for watching Obama's back — came as the President said he's reserving his anger until all the facts are in.
But Obama surely won't be pleased by details dug up by The News at the hotel, where the President and other world leaders met for an economic summit over the weekend.
A staffer at Hotel Caribe said one agent started tossing furniture and others pulled their badges to try to deflect the controversy when the hotel manager intervened for a prostitute who wasn't paid.
"When the hotel manager showed up, one of the agents starting throwing chairs and tables around," the staffer told The News.
The brouhaha prompted the manager to call local police, who were forced to make a report exposing the misconduct charges against the agents to the world.
"They were showing their badges saying, 'Look, look who we are!' " the hotel staffer said. "He didn't want to pay one of the girls. They had huge egos."
Pley Club working girl Maria Jose, 34, said she's often experienced johns not wanting to pay. " A lot of us girls have to put up with tourists like that," she said. " It happens every day."
Officials said 11 Secret Service agents, including two supervisors, embroiled in the South American shenanigans were yanked back home and are under investigation.
The agents were part of Obama's security detail dispatched to Colombia to do advance work for the President's three-day trip to the Summit of the Americas.
Obama arrived in the seaside city on Friday after the misbehavior imploded. Before heading back to Washington Sunday, the President said his faith in the Secret Service has not been rattled.
"What happened here in Colombia is being investigated by the director of the Secret Service," Obama said at a joint press conference with Colombian President Juan Manuel Santos. "I expect that investigation to be thorough and I expect it to be rigorous."
"If it turns out that some of the allegations that have been made in the press are confirmed, then, of course, I'll be angry because my attitude with respect to the Secret Service personnel is no different than what I expect out of my delegation that's sitting here," Obama said. The Secret Service agents, most of whom are married, apparently went astray while partying in the Barrio el Bosque section of Cartagena, where prostitution is legal.
Experts say that even though hiring hookers is legal, it puts agents at risk of blackmail.
Jon Adler, president of the Federal Law Enforcement Officers Association, said he has been told by sources close to the probe that an altercation involving the agents happened at a nightclub, but he refused to elaborate.
"I think the allegations are hype after the fact and in any case those questions should be left to the investigators to review, not the gossips," Adler said.
Rep. Pete King (R-L.I.), chairman of the House Homeland Security Committee, said he is conducting a parallel investigation in case there are any discrepancies.
"If there are, and if there needs to be further review, there might be hearings," King said Sunday. "It would not be some kind of morality play, but looking at agents putting themselves in position where they could be compromised, and how to prevent it from happening again."
Rep. Darrell Issa, chairman of a House investigative panel, vowed lawmakers will be looking "over the shoulder" of the Secret Service "to make sure that the agency isn't endangering the nation's VIPs.
"Things like this don't happen once if they didn't happen before," said Issa (R-Calif.), who leads the House Oversight and Government Reform Committee.
Meanwhile, five U.S. Defense Department service members have also been accused of the misconduct in Cartagena and confined to their base.
The U.S. Southern Command said in a statement Sunday that the service members "violated the curfew established by the United States senior defense official in Colombia and may have been involved in inappropriate conduct."
Read more:
http://www.nydailynews.com/news/world/secret-service-hooker-hot-spot-eleven-agents-assigned-protect-president-found-girls-prey-club-sources-article-1.1062230#ixzz1sTX00oDQ
sfux - 19. Apr, 11:03 Article 4572x read