A Meta-Group Managing Drugs, Violence, and the State
The Meta-Group, West, and East / Part II

Peter Dale Scott
- What is special about this meta-group is its global reach, which makes it of especial interest to the CIA and other pro-American agencies committed to globalization. It also has its own business front, Far West Ltd., which claims to have interfaced with prominent American firms.
There is an undeniable western face to the dominant meta-group. One member of the Far West meta-group at the 1999 meeting, Anton Surikov (aka Mansour Natkhoev), had spent time at the London Centre for Defence Studies, together with another member of Far West, former Lithuanian Defense Minister Audrius Butkevicius
1
. We shall see that a third member, Ruslan Saidov (aka Hungar Mehmet), is said to have been paid as a CIA contract agent.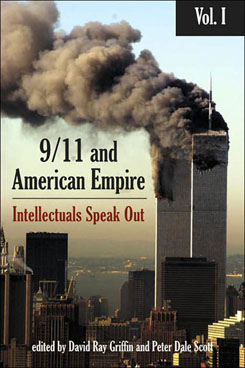 9/11 & American Empire: Intellectuals Speak Out, edited by David Ray Griffin and Peter Dale Scott, is scheduled to appear in August 2006
But there are also functional links between the meta-group and corporations close to the White House of Pres. George W. Bush. The group's business front, Far West Ltd., is said to have had CIA-approved contractual dealings with Halliburton for geopolitical purposes in the Caucasus, as well as dealings in Iraq with Diligence LLC, a group with connections to Joe Allbaugh (the FEMA chief in 2001) and to the President's younger brother Neil Bush. The head of Far West, Vladimir Filin, recently told a Russian outlet that "a well-known American corporation… is a co-founder of our agency."
2
Despite these connections, Far West has allegedly sold arms to both Venezuela and Iran, and has recently adopted a militantly anti-West posture.
As recently as [2005] Filin wrote in glowing terms about their visit to the United States in July 2005, where, according to Pravda-info, he and two other co-founders of Far West, Ltd., Anton Surikov, and Alexei Likhvintsev, met with representatives of the Bush Administration. However, lately he cites fear for criminal persecution by US law-enforcement agencies as the reason for his and his partners' hasty relocation from Europe to Brazil and Dubai, …. According to Filin, … he and his partners were warned by a high-ranking [US] official that they would be brought to justice for their alleged role in the illegal sale of Soviet-made cruise missiles X-55 to Iran in 2001.
3
Filin has since attended the inauguration of President Evo Morales in Bolivia, where he denounced the CIA as "absolute and universal evil."
4

Footnotes
1: In addition Surikov had had contacts with at least one senior CIA representative. See the Letter of Anton Surikov to Oleg Grechenevsky, discussed below: "I am personally acquainted with Mr. Ermarth as political scientist since 1996. It's well known by many people and we never hid this fact." Fritz Ermath did not retire from the CIA until 1998. Cf. Argumenty i Facty, 9/15/99, that the two men met in 1996 was indeed public knowledge. The Russian journal Commersant published a photo of the two men and others at the International Seminar on Global Security in Virginia, April, 1996.

2: Interview, discussed below. Cf. Letter of Anton Surikov to Oleg Grechenevsky, discussed below: "We cooperate with the American side in the sphere of commercial transportation not on the basis of direct commercial contracts between our agency [Far West, Ltd.] and the U. S. government, but through the intermediary company co-founded by the agency and a private U.S. company, which in its turn also interacts with the U.S. government."

3: Editorial staff of burtsev.ru; citing Vladimir Filin, Pravda-info, 7/29/05, Cf. Financial Times, 3/18/05.The relocation followed Filin's admission he had paid bribes paid to Ukrainian officials in connections with the X-55 missile sales. In discussions of the scandal, the claim that Far West worked with KBR/Halliburton, made initially by Yuri Yasenev (see below), was reiterated by Valery Lysenko, deputy director of Ukrspetsexport, who handled the deals. See Left.ru, 2/18/06.Cf, Boston Globe, 2/12/06, A1;

4: Natalia Roeva, Pravda-info, 2/24/06; partially translated. Roeva is herself a member of Far West (see below)

Part I: History and the Political Requirements of the Global Drug Traffic

Part II: The Meta-Group, West, and East

Part III: The Meta-Group, BCCI, and Adnan Khashoggi

Part IV: Dunlop's Account of the Beaulieu Meeting's Purpose: The "Russian 9/11" in 1999

Part V: Dunlop's Redactions of His Source Yasenev

Part VI: The Khashoggi Villa Meeting, Kosovo, and the "Pristina Dash"

Part VII: The Role of Anton Surikov: The Dunlop and Yasenev Versions

Part VIII: Saidov, Surikov, Muslim Insurrectionism, and Drug Trafficking

Part IX: Allegations of Drug-Trafficking and Far West Ltd.

Part X: Far West Ltd, Halliburton, Diligence LLC, New Bridge, and Neil Bush

Part XI: The U.S. Contribution to the Afghan-Kosovo Drug Traffic.

Last Part XII: Concluding Remarks: Meta-Groups and Transpolitics.

Peter Dale Scott, a former Canadian diplomat and English Professor at the University of California, Berkeley, is a poet, writer, and researcher.
sfux - 29. Aug, 08:03 Article 8185x read