A Meta-Group Managing Drugs, Violence, and the State
Dunlop's Redactions of His Source Yasenev / Part V

Peter Dale Scott
- Dunlop's essay is 52 pages long, with 142 footnotes. But having thus provocatively included references to both Khashoggi and narcotics, Dunlop does not mention either again. Dunlop does however make one more reference to Davidovich: "`It soon emerged,' Versiya continued, `that a very frequent visitor to Davidovich was a certain French businessman of Israeli-Soviet origin, a native of Sokhumi [Abkhazia], 53-year-old Yakov Kosman.'"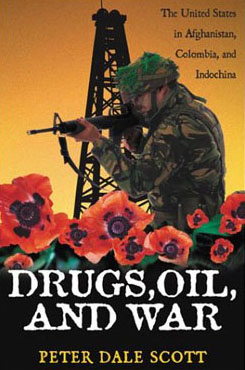 Drugs, Oil, and War: The United States in Afghanistan, Colombia, and Indochina, explores the underlying factors that have engendered a U.S. strategy of indirect intervention in Third World countries through alliances with drug-trafficking proxies.
Dunlop's cited source for information about both Davidovich and Kosman is the website article by Yuri Yasenev, "Rossiyu zhdet oranzhevaya revolytsiya" ("Russia Awaits an Orange Revolution"). But Dunlop recurrently abridges what Yasenev wrote:
The article "Rossiyu zhdet oranzhevaya revolytsiya," … reports that Davidovich lives in Munich and enjoys both German and Venezuelan citizenship. He is also said to be personally acquainted with international arms dealer Khashoggi.
curtailing Yasenev's description:
Alfonso Davidovich – (1948), Venezuelan, lives in Munich. Has German and Venezuelan citizenship.
Speaks Spanish, English, French, German, and Russian fluently. In the 1970s went through special training in the USSR (Privol'noe, Nikolaevskaya oblast) and East Germany.
Owns companies and banks in Barbados, the Caymans and other off-shores.
Has friendly relations with Hugo Chavez, and is acquainted with Fidel Castro, Marcus Wolf and Adnan Khashoggi. Has many contacts in Colombia, including FARC. In 1999 Davidovich was alleged to have engaged in arms trafficking for guerillas in Chiapas, Mexico and in money laundering for the Colombian drug mafia. Finances antiglobalization movement in Europe and Latin America."
With respect to Kosman, Dunlop's version is: "Kosman is reported in the same 17 December 2004 issue of compromat.ru, to live in Nice and to possess German and, possibly, Israeli citizenship."
Yasenev wrote:
Yakov Abramovich Kosman (b. 1946), resides in Nice, France. Has German and, possibly, Israeli citizenship. Involved in real estate operations and banking. Has contacts with Kosovo Albanian criminal societies in European countries. In 1997-2000 he served as financial consultant to Hashim Thaçi, the chief commander of KLA."
Consider that "In 1998, the U.S. State Department listed the KLA – formally known as the Ushtria Clirimtare e Kosoves, or UCK – as an international terrorist organization, saying it had bankrolled its operations with proceeds from the international heroin trade and from loans from known terrorists like Osama bin Laden." According to Loretta Napoleoni, "It was thanks to the mediation of Chechen criminal groups that the KLA and the Albanian mafia managed to gain control of the transit of heroin in the Balkans,"

Part I: History and the Political Requirements of the Global Drug Traffic

Part II: The Meta-Group, West, and East

Part III: The Meta-Group, BCCI, and Adnan Khashoggi

Part IV: Dunlop's Account of the Beaulieu Meeting's Purpose: The "Russian 9/11" in 1999

Part V: Dunlop's Redactions of His Source Yasenev

Part VI: The Khashoggi Villa Meeting, Kosovo, and the "Pristina Dash"

Part VII: The Role of Anton Surikov: The Dunlop and Yasenev Versions

Part VIII: Saidov, Surikov, Muslim Insurrectionism, and Drug Trafficking

Part IX: Allegations of Drug-Trafficking and Far West Ltd.

Part X: Far West Ltd, Halliburton, Diligence LLC, New Bridge, and Neil Bush

Part XI: The U.S. Contribution to the Afghan-Kosovo Drug Traffic.

Last Part XII: Concluding Remarks: Meta-Groups and Transpolitics.

Peter Dale Scott, a former Canadian diplomat and English Professor at the University of California, Berkeley, is a poet, writer, and researcher.
sfux - 1. Sep, 08:14 Article 6672x read