Ollie North and the C-123 Story

Bear Bottoms
- Barry Seal made a decision to try and work off his legal problems. He started trying to get someone to work with him. He was having difficulty finding someone. Finally, in March of 1984 he flew his Lear Jet to Washington and received an audience with Vice President Bush's Anti-Drug Task Force.
He first went to the National Narcotics Border Interdiction office and was referred to DEA Agent Frank White. Mr. White was a staff investigator for DEA Chief of Cocaine Desk Ron Caffrey. He told them an unbelievable story. He left without a deal.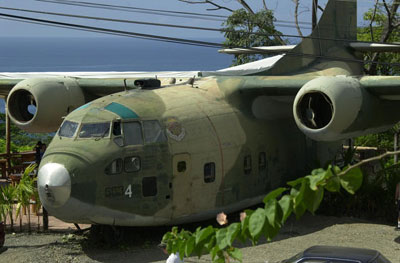 One of Mr. North's Contra Plains, a C-123. Now a Restaurant
Soon after, he was contacted and told that DEA Agents Robert Joura and Ernst Jacobsen would get with him and see if he could produce anything they would be interested in. Barry sat them down at a telephone and he called Carlos Bustamante and Felix Dixon Bates, who represented the Jorge Ochoa organization. Bob Joura and Ernst Jacobsen became Barry's "handlers". With that telephone call, Barry set up a meeting in Colombia.
The Colombian meeting resulted in plans for a large load of cocaine to be flown from Colombia to the US Barry returned to the US, briefed the DEA, and prepared for the trip. He flew a Lockheed Lodestar down to Colombia to get 1500 kilos of cocaine. Carlos Lehder was on the field to meet him. Barry did not want to attempt takeoff because the field was muddy. Lehder made him go anyway. Barry crashed on takeoff. The Cartel produced a Titan Cessna for Barry to continue on to the States. Barry said the plane didn't have enough range. They said he could refuel in Nicaragua.
He flew the Cessna loaded with cocaine to Nicaragua, refueled at Los Brasiles, and took off for the US He was struck by anti-aircraft fire shortly after takeoff and landed in Managua where he was arrested and released through Frederico Vaughn's efforts after a few days. Frederico Vaughn was an associate of Nicaraguan Government Officials. Barry told the Cartel that he would go to the States, get a larger plane and would return to Nicaragua to get the cocaine. Barry was flown back to the States in an aircraft owned by Pablo Escobar.
He briefed Joura and Jacobsen. Nicaragua!-They couldn't believe it. It was not a known fact, prior to this event, that Nicaragua was involved with the Medellin Cartel. Barry purchased a C-123 from Harry Doan. Joura and Jacobsen started working on the details in Washington for clearances, and finally they were ready to go to Nicaragua. What they didn't know was Washington DEA agents Ron Caffrey and his boss Dave Westrate were briefing Ollie North about the details of the undercover operation. What was being discussed in these meetings would greatly effect the undercover operation. Before the plane left for Nicaragua on its first trip, the CIA approached them and installed a 35mm camera in the airplane at Homestead AFB in Florida just before they departed for the first C123 trip to Nicaragua. That is the first indication that North/CIA/NSC had an interest in the operation.
The CIA also moved a satellite over Nicaragua and took photos while the plane was in Nicaragua. A U-2 spy plane also flew a photo mission over Nicaragua. That is the only direct involvement with the CIA Barry had...ever! Barry went to Nicaragua in the C-123 and returned to Homestead AFB on 06-26-84 loaded with 666 kilos of cocaine. Barry had used the 35mm camera installed by the CIA. Those grainy pictures became famous.
A second trip was planned and the agreement with the Cartel was after that trip everyone (Seal, Jorge Ochoa, Pablo Escobar, Rivas Gacha, Carlos Lehder, Frederico Vaughn, etc.) would meet in Panama or Guatemala to celebrate and pass around money. The whole Medellin Cartel and other high level people would have been arrested by the DEA in one fell swoop.
North blew the cover BEFORE the second flight ever left. Barry was taking $1.5 million in cash and other goodies requested by Escobar. North asked Caffrey and Westrate to have Seal land close to the Contras and give them the money. They refused because it would destroy the operation and hence the arrest opportunity. North threw a temper tantrum and leaked the information to General Paul Gorman , Commander of Southern forces in Central America. North figured that if the cover was blown then the DEA would give him the money for the Contras.
North was briefed about every aspect of the Nicaraguan sting by the DEA. There were at least two meetings in the Executive Office Building as testified to in Oversight Hearings before the Subcommittee on Crime of the Committee on the Judiciary, House of Representatives, One Hundredth Congress, Second Session, July 28, September 23, 29, and October 5, 1988 conducted by Congressman William J. Hughes,Chairman of the Subcommittee and Congressman Bill McCollum. Three top level DEA agents were interviewed by this committee. DEA Assistant Administrator Frank Monastero, DEA Deputy Assistant Administrator Dave Westrate, and DEA Chief of Cocaine Desk Ron Caffrey..
(Barry's first flight to Nicaragua in the C123 was on June 26, 1984.) Present at the first meeting on June 27, 1984 were Dave Westrate, Col. North, Dewey Clarridge of the CIA, Kennedy Grafinrid assistant to the President, and Greg Johnstone Office of Indian Affairs at the State Department. North onducted the meeting.
Mr.Clarridge opened the meeting by producing photos of the first trip to Nicaragua. They were told that Frederico Vaughn was an associate of Nicaraguan Government Officials. The CIA later denied that they had knowledge about Frederico Vaughn's relationship with Sandinista Officials. Second on the agenda was discussion about releasing the facts of the case would enhance the probability that Congress would vote for funding the Contras, if they knew the Sandinistas were involved with the Medellin Cartel. Next the rules of press releases were discussed.Then the future potential of the DEA case was discussed. Westrate testified that he made it very clear that a press release would jeopardize the case, and the future potential of the case was great. The DEA would not agree to blowing such a significant case.
(Note in North's diary June 27: I am going to ask one of my staff to put it up.) Present at the second meeting on June 29, 1984 was Dave Westrate, Ron Caffrey, Col. North, Dewey Clarridge, and Greg Johnstone. North again onducted this meeting.Ron Caffrey testified in the oversight hearing that he brought the photos to this meeting.North already had the photos in the first meeting.
Clarridge produced them. Clarridgeclaimed that one of the people in the pictures was Frederico Vaughn, an associated of Nicaraguan Government Officials. Pressure was stepped up to get the DEA to go along with releasing the information about Sandinista involvement in drugs. North warned Westrate and Caffrey not to send Seal on the second flight, it would be dangerous. Westrate and Caffrey claimed they would not agree to blow the cover on such a significant case.
On 06-29-84, PRIOR to the second trip to Nicaragua, Gen. Paul Gorman makes a speech to the American Legion in El Salvador in which he mentions Nicaraguan involvement in drug smuggling. That speech said we had proof the Nicaraguan Government was involved with cocaine, and the speech was on a radio broadcast.North was sure that this leak would subvert the second trip and the Contras would get the $1.5 million that Seal was supposed to bring with him on that second flight. This leak reverberated back to the DEA who now were at a quandary as to what to do next.To North's dismay, the DEA sent Seal and crew to Nicaragua anyway without telling them their cover was blown. DEA agents Joura and Jacobsen found out about the leak after the plane had already departed on July 7, 1984.
They tried to contact Seal and warn him but couldn't make HF radio contact. When Seal landed at Los Brasiles in Nicaragua, they got a cold reception and no return load of drugs even though they saw cocaine at the airfield. Escobar said plans had changed and wanted him to go on to Peru and fly coca paste to Nicaragua.
Escobar would then send the cocaine manufactured from the paste to the US in small aircraft. North then desperately tried to cover his leak to Gen. Gorman by again leaking the information to the Washington Times AFTER the plane had already returned. Then blamed the leak that shut down the operation on the Washington Times story by Edmond Jacoby dated 07/17/84.On 07/17/84 Carlton Turner, Drug Policy Advisor at the White House, accused DEA Assistant Administrator Frank Monastero that the DEA had leaked the story. Monastero said that during this meeting and ccusation, Mr. Turner was very knowledgable about the case. Monastero angrily denied that the DEA had leaked the story and said that the White House had leaked the story. Nevertheless, the case was over and further evidence of Sandinista involvement would never be developed.
Their cover was blown, but Barry and his crew took off on the second flight to Nicaragua without this information. One of the crew members, the only one still alive will testify to this. North warned the DEA not to send the second flight. The government has maintained that Seal was informed their cover was blown before the flight, but Seal decided to go anyway in hopes that the Cartel had not heard about the leak.
Barry and crew departed on 07/07/84 for their second flight to Nicaragua. After a cold reception and the request by Escobar for him to go to Peru, Barry told Escobar he would have to make some repairs on the aircraft first, and returned to the US empty. The flight engineer that went on both flights will testify that they were not informed their cover was blown before landing in Nicaragua the second time and they saw cocaine at Los Brasiles. During the debriefing following their return from the second trip to Nicaragua was when they were informed about the leak.
North had blown the cover on the most significant criminal drug investigation in America's history, while it was on going, and he and Reagan later used this information to get $100 million from Congress for the Contras. Remember Reagan showing the pictures of the plane on the ground with Barry, Escobar, Gacha, and Vaughn etc. clearly visible on national television. The Medellin Cartel went on to make history. North went on to wreak havoc.
The C-123 was taken to Mena and repaired where it remained from 07/84 to 06/85. There were two flight during this period, a maintenance test flight and a flight in which Investigative Reporter John Camp and Barry filmed "Uncle Sam Wants You."
All of the people who have said they flew guns down and drugs back with Barry are lying. Everything Terry Reed says about Mena is a lie. Besides, Maj. Gen. John Sinlaub has stated that the Contras didn't use American made weapons because as guerrillas the distinctive sound would easily give their positions away. Arkansas Sheriff Al Hadaway watched that aircraft during this period and verifies that it was not used for any more flights. Seal sells the C-123K on 06-15-85 back to Harry Doan for $250,000.I delivered it to his hanger at New Smyrna Beach Airport in Florida. We were never again associated with that airplane. It was later shot down in October of 1986 over Nicaragua with Eugene Hasenfus aboard.
Note: This story has never before been written in the detail and accuracy I have provided here. Some of it is totally unknown to the public.

Raul Castro's fidele Kokain Connection

Gasmasken, Giftgas und Milliardenbetrug - auf den Spuren des Moshe Regev

Der Wonga Coup

Prostituierte, Parties, Pferderennen, Penny Stocks, Deutsche Bank in Toronto und Khashoggi

Gletscher, Safari und Zyanid - Barricks-Gold

Massenvernichtungswaffen für den Iran

Söldner, Gauner, Waffen und Rohstoffe

Geheimer Waffendeal mit MEK Terroristen?

Koks in Mexiko - Heisse Kartoffeln in Clearwater

Bermudadreieck: Koks, Gambling & Politik

Mit Nebelgespenstern, Koks & Poker rund um die Welt

Skyway und die Räuberpistolen

Der seltsame Weg einer DC-9

Hasenfus Kokain? Oder kein Hasenfus Kokain?

Swissair DC-9 "Graubünden" steckt mit in der Kokain Affäre

Special Operation Samurais & die 5.5 Tonnen Koks

Kokain nicht nur Straffrei sondern bald Pflicht?

Wer war denn Mr. Bramble?

In Coca Mekka Schnee bis in die Niederungen

Die Old Boys Dirigenten von Genf

Das Old Boys Netzwerk

CIA-Flieger in Mexiko mit 128 Koffern voll Kokain erwischt

Verbindung von US-Politiker zu 5,5 Tonnen Kokain

Fallout an Heroin

Mit dem Flugzeugbomber, Oli North & Felix Rodriguez auf der Pista Coca

Pizza aus dem Hindukusch gefällig?

Islamische Mullahs & kalte Krieger in der Liebkosung

Krausköpfe mit Stinger-Raketen
sfux - 17. Aug, 08:00 Article 21021x read